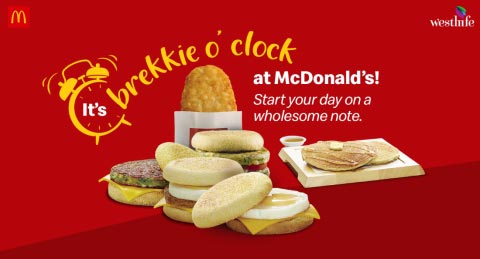 Life can't be perfect, but your breakfast can be! And, can you guess where this perfection is crafted? You guessed it right! It is right here at McDonald's! Well begun is half done, and breakfast is the most important meal of the day, so you most definitely need to get it right. Not just in terms of taste but also the health quotient—there are absolutely zilch artificial colors, artificial flavors, and preservatives in each of the McDonald's meals that are a part of the Real Food Real Good menu. You can take an extra step to really know what you are consuming by going through the Allergen and Nutritional information of your indulgence that is available at your McDonald's outlet and even on the McDelivery app.
McDonald's is quite zestful even during the 7 a.m. to 11 a.m. breakfast zone, giving you a spritely start to the day. What comprises your perfect breakfast? Is it eggs, coffee, or sausages? You name it, and the McDonald's menu will have it! It is the ideal choice to boost your motivation for a busy day. When you are going through a moody Monday morning and don't want to cook, when you are en route on a road trip and want to stop for a hearty meal or when you want your comfort food on a very nervous first day at work, and even on the lazy weekend mornings. Now, who would miss out on this relaxing, hassle-free, and happy beginning?
Take a look at these delicious and scrumptious breakfast options that you will definitely be 'Lovin It'!
Classic Scrambled Egg
Masala Scrambled Egg
Egg McMuffin
Spicy Egg McMuffin
Veg McMuffin
Cheese McMuffin
Double Cheese McMuffin
Sausage McMuffin
Sausage & Egg McMuffin
Chocolate Chip McMuffin
Vanilla Chocolate McMuffin
Hashbrown
Hotcakes
Variety of McCafé Coffee, Tea, and Chocolate Milkshake
Everything you need for a perfect morning meal indulgence is here at McDonald's. Check them out in detail at the McDonald's app along with the available value meals. Drop by your nearest McDonald's outlet for a beyond delicious brekkie, or for a breakfast in bed like pleasure get it home delivered from the McDelivery app or McDelivery website.