At McDonald's India – Westlife encourages a culture of inclusivity, where each and everyone is welcomed and encouraged. A place for equals is nurtured. The all-women's State of Unity (SOU) Store in Ekta Nagar, Gujarat is no exception. Each of the McDonald's women employees put their best foot forward, challenging themselves, taking up new roles, exploring opportunities, encouraging co-workers and making sure visitors too take away some of the cheerful vibes.
Celebrating Women's Equality Day with the go-getters at McDonald's India, we bring forth the thoughts and voices of women employees who are enthusiastically driving progress for McDonald's. Be it the warm and welcoming smiles you come across at the stores or the McDonald's Indian Menu that brings you back, our women employees along with the others ensure that it's a wholesome and happy experience for you at your favorite burger, fries and coffee place!
A culture of co-learning is celebrated through an exchange of experiences around training, everyday situations, overcoming challenges, etc. A collaborative culture is encouraged at the stores for each employee to learn, laugh and live through memorable moments. Everyday challenges are looked at as opportunities to grow and develop one's skills.
Right from the store manager to baristas, each and every employee adds a positive charm to the place. So, the next time you step into the McDonald's all-women SOU Store or any other one to take a bite of your choicest item from the McDonald's Indian Menu, do take a look around at how McDonald's employees work together to bring out the best experiences for you.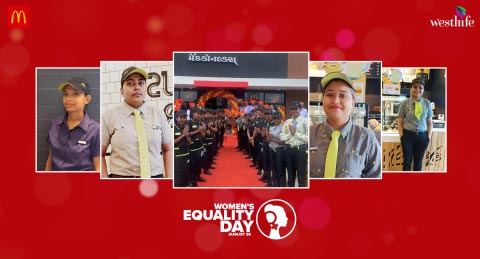 To take a look at the McDonald's special menu, visit the McDelivery website or McDelivery app, and order your McDonald's favorites. Even better, download the McDonald's App to browse through the latest deals and offers, and walk into the nearest McDonald's restaurant that will have a McDonald's employee welcoming you with a pleasant smile!