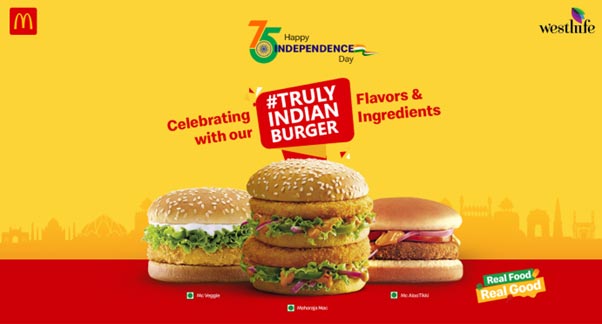 Do you know what makes Indian independence so special and different? It is the coming together of people with stark differences for a single cause. The uniting of individuals of different backgrounds is truly beautiful, and McDonald's reflects this principle in the McDonald's burger menu. McDonald's is a forerunner in establishing fast food joints across the country, so much so that many consider McDonald's to be synonymous with burgers and fries. It is a household name among go-to restaurants! Be it school and college friends, coworkers, or family members, everyone knows that the ultimate hangout place is McDonald's!
McDonald's knows the magic that Hindustani flavors bring to the table and has made it a top priority since day one. That is why up to 97% of the ingredients on the McDonald's menu come from the fields and state-of-the-art facilities in India. McDonald's India has a local supply chain that delivers farm-fresh produce to give you a meal that you will relish till the very end. These are truly Indian burgers as they are the coming together of different elements from across the country. The jalapenos are from Karnataka, regular and whole wheat buns come from Maharashtra, lettuce is from the Nilgiri hills, potatoes from Gujarat, and tomatoes from the fields of Western India.
Let's explore some of the best from McDonald's that has been invented and introduced in India!
McAloo Tikki Burger
The crunchy potato and peas patty along with Tom Mayo and crunchy onions has everyone in the country smitten! What can one say, dil hai hindustani.
McVeggie Burger
A patty made with potatoes, carrots and Indian spices, with crunchy lettuce and mayonnaise. A definite classic for the daily hussle. Flavors ho toh desi!
Chicken Maharaja Mac
What happens when you mix Big Mac and chicken maharaja curry? You get a very majestic Chicken Maharaja Mac with a very generous patty of juicy grilled chicken with jalapeno, onion, slice of cheese, tomatoes, crunchy lettuce, and classic Habanero sauce. Burger khao maharaja style.
Veg Maharaja Mac
A mighty tall burger fused with well-fried corn and cheese patty and topped with jalapeño, onion, a slice of cheese, crunchy lettuce and cocktail sauce. Flavors, masala marke!
Celebrate your Indianness with full fervor at a McDonald's outlet in your area or order in from the McDelivery app or McDelivery website and get a free burger with your order. For those who would still like to go for their favorite McDonald's cheese burger or the spicy ones on the menu, it's all available. If you are headed for a long weekend trip, don't forget your favorite McDonald's Drive- Thru to begin, take a break during your road trip or end it. Hey, here's the last one, exciting deals and offers always await on McDonald's App. Don't miss out on downloading some awesomeness!