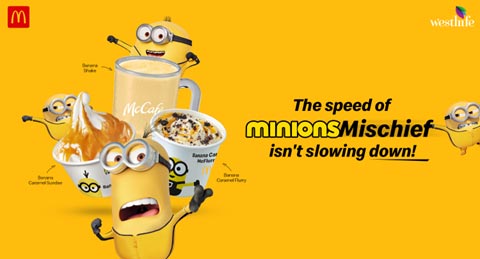 Don't you agree? Nothing beats McDonald's desserts. When the happy hormone, dopamine is released and the sweet tooth is soothed, then everything looks beautiful! The noise of bustling crowds silences, there seems to be more color in your surroundings, and your senses relax. It feels like heaven on earth! Would you like to take this feeling up a notch? There is something that can double this sweetness with madness, and that would be the Minions' special Banana Caramel McFlurry and McDonald's Banana Shake which on the menu will read like Minion McFlurry Banana Caramel Oreo, Minion Banana Caramel Shake and then there's also Minion Banana Caramel Sundae.
After being constantly goofy and silly, after serving a villainous master, after developing super dangerous and destructive weapons, after creating a massive fan following, and after being a Happy Meal Toy of the Month, the minions are still making everyone #GoBananas in theaters and in McDonald's stores! Yes, in the form of McDonald's Desserts: Banana Caramel McFlurry, McDonald's Banana Shake and Banana Caramel Sundae.
Ever since the minion themed desserts have hit the McDonald's stores with the premiere of Minions: The Rise of Gru, it has been quite a rage. It is raining mania here in Banana Town, and if you haven't already tried these desserts, come by and take a slurp of this fruity awesomeness. Download the McDonald's App for special deals and offers, and if you want to bring home some Minion mischief from McDonald's, order in from the McDelivery website or McDelivery app.
The time to say goodbye to the yellow beings is nearing. The last day to enjoy the minion mischief and #GoBananas is August 15. So, go on and celebrate this Independence Day with some banana goodness at a McDonald's.