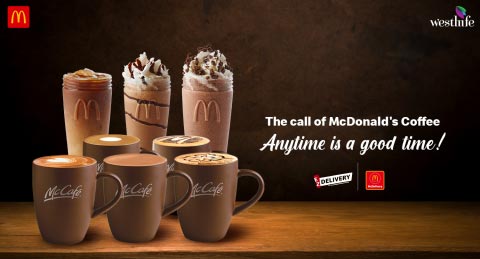 Don't you think that it is crazy that the contents of a cup can really define your day? The entire world is well aware of the wonders caffeine can do. It gives you a kind of energy that makes you feel like the last person standing on a battlefield. Coffee, depending on whether it is good or bad, can really make or break your day. In that case, you must always rely on a well-known cafe or coffee house for your caffeine fix, and what better option than McDonald's very own McCafé? There are refreshing drinks and delightful munchies to relish here!
One might ask, "What is the best time to have coffee?" Pshhh, don't we all know that all time is coffee time! Be it early morning, mid-morning, early afternoon, late afternoon, or even late in the evening. One can start a meal with coffee or end it with coffee. Sometimes you don't need a philosophical quote to get inspired, all you need is a cup of coffee. When you are battling the Monday blues or sulking because it is a sombre Sunday evening, there is simply no saying no to coffee. Especially when it's freshly grounded 100% Arabica beans that is roasted to perfection, coming from the lush plantations in Chikmagalur. Each coffee order is on par with international standards, and is handcrafted by baristas at McCafé. The end product: a fantastic cup of coffee with excellent flair.
To catch you up, let's take a tour of McDonald's coffee menu, shall we?
When you are running late and on the go,
Just grab a McCafé Americano!
A tough day is ahead, and you've got to slay it.
Start your day with an awesome Latte!
After lunch, it is just a drowsy day.
Refresh it with a Cappuccino from McCafé!
What happens when McCafé espresso and milk unite?
It produces the ever-soothing and delectable Flat White!
Want to jazz up your day when you are feeling low?
Then you must try the McCafé Iced Americano!
It is near afternoon and you still don't feel awake?
The McCafé-Ice Coffee is definitely the one you should take!
Choose which one of these is the best McDonald's coffee that you are always lovin'?
If you are not just a coffee enthusiast but a McCafé coffee enthusiast, then rejuvenate your senses and uplift your spirits with a nice cup of coffee at McDonald's. Drop by any of the outlets or stay tuned with the McDonald's app. There is always something exciting you can avail from the comfort of your home on the McDelivery app and McDelivery website as well!