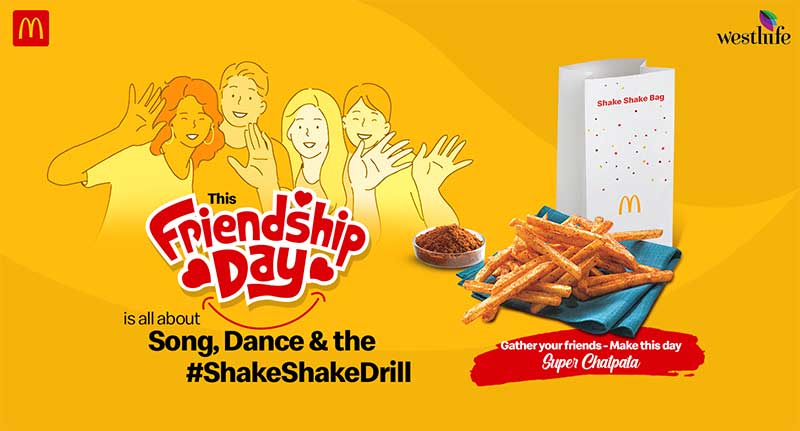 If friendship had a flavor, what would it be? Sweet? Spicy? Tangy? In no way bland, definitely! To think of it, it is a little bit of everything: the sweet moments where friends go out of their way to ensure everything's well with you, the spicy ones that include arguments and disagreements, the tangy moments of excitement and adventure, well, don't you think the flavor of friendship includes it all?
Making it super-duper Chatpata!
Now, that's the flavor we are talking about this Friendship Day. A day like this got to be celebrated with all the masala and masti. While the love for Piri Piri Mix McDonald's added to the menu on popular demand isn't a secret, here's another mouth-watering flavor to add to your favorites. The all-new Chatpata Mix to go with your most loved McDonald's items: French Fries, Nuggets, Wedges and everything else that you'd like! Let's bring out the chatpata quotient with friends who add that flavor to life, and go Shake Shake Fries.
So, we have the #ShakeShakeDrill for the McDonald's Shake Shake Fries with the all-new Chatpata Mix that brings music, dance and those you can't do without: bffs, bae and friends together. At McDonald's, we're celebrating the day of friendship with full-on energy, fun and happiness. Don't miss the chance to get together with friends and have a party like no other with Free Fries*! Sonal Devraj, the popular social media influencer has led the way with the masterclass, now, it's your turn to slide in with those moves. It's going to be a lot of fun!
https://www.instagram.com/reel/CgwSdBrl1Vl/?utm_source=ig_web_copy_link
Upload the video #ShakeShakeDrill with up to 10 friends on social media and we'll DM you a code for that many free fries! C'mon, let's bring all good things together.  
Stay tuned to McDonald's India social pages to catch all the masaledar masti.  
If you can't wait to try the newest flavor, moonwalk into the nearest McDonald's restaurant or order the Chatpata mix on the McDelivery website or McDelivery App and go Shake Shake Fries! And while you are up to the pulsating vibes, don't miss out on the coolest deals and offers available on the McDonald's App. The more, the merrier, isn't it? Happy Friendship Day!  
*Note: Offer applicable for the first 20 entries