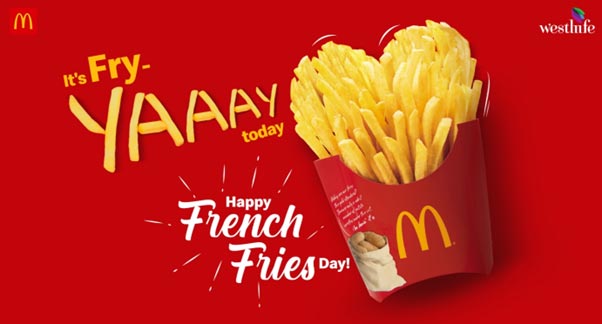 What's it like to have a constant food favorite? Do you think of it as comforting, exciting, and almost like a BFF? The classic McDonald's French Fries are those magical food creations, aren't they? Just the perfect company on their own, and go great with almost anything else: your McDonald's favorites or even food you are experimenting with. McDonald's French Fries are the easy-going buddy that almost always says: I'm game!
And no way we're shying away from celebrating this modest food on the McDonald's Menu. Today is the day to celebrate this special food love. It's French Fries Day! And your favorite McDonald's French Fries, classic or Piri Piri or in any other way that you have, is all ready for the party, and after-party. What about you?
When you call for your McDonald's French Fries, what's your go-to combination?
Like it Classic
You wouldn't have it any other way, is it? We get the love for the simple yet yummy fried sticks of potato with a sprinkle of saltiness. And then you have the option for regular, medium and large which adds more to the love of French Fries.
Got to be Spicy
The finely sliced and fried golden brown McDonald's French Fries with the spicy shake-shake mix of Piri Piri is a mouth-watering delight! Then there is the Tomato Ketchup and Chill Sauce for more flavors. And for those who cannot do without cheese, there's the oozy Mexican Cheesy Fries with a combination of cheese and spicy sauces. Can't wait to bite into it?
Mix 'n' Match
Call for the classic McDonald's French Fries, and add them to your burger? Are you one of those? Well, it's yours to savor. A few nibbles here, a few bites as part of the mix and match combo, we've heard is a favorite for quite a few!
A little Sweet – A little Salty
How can anyone go wrong with this balance of sweet and salt? Go dip-dip with your McDonald's French Fries into the chilled McFlurry to blow your mind with a burst of flavors. Tried it and loved it? Yeah, we know it!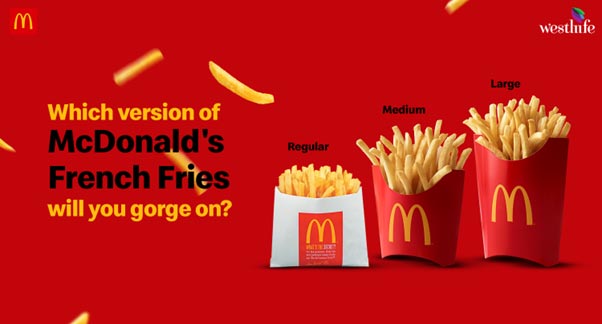 So, if it's a party for one, two or many. If it's classic McDonald's French Fries, Piri Piri mix, Mexican Cheesy Fries, or French Fries in any other way that you love to eat, it's a special kinda love to celebrate. Call for the regular, medium, or large, it's happy tummy time! Walk into your nearest McDonald's restaurant or call for your favorite McDonald's French Fries on the McDelivery website or McDelivery App. Happy French Fries Day y'all…