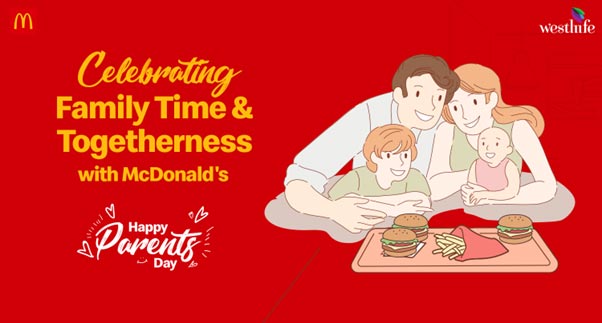 Celebrating Family Time and Togetherness with McDonald's
Do you remember the first time you visited McDonald's? Was it with your parents, looking around at the happy place you've reached? Sitting between them and taking a bite, two or more of the yumminess that McDonald's burgers are, and nibbling on McDonald's fries? Was it also the first time that you tried McDonald's Soft Serve, and wished there was a never-ending supply of it?
Revisiting good old memories is so much fun. And making new ones? Even better!
The times when families get together and enjoy McDonald's Family Meal are special any day. From the first memory of your parents taking you to your now hop-in-anytime favorite restaurant, celebrating birthday parties at McDonald's, to taking a break, chatting about college and matters of the heart, a quick burger break on your shopping day or even taking your parents out to a meal on special occasions, like the day you got your first salary. Enjoying moments together as a family is one of life's biggest treasures. And while each of you would have a favorite McDonald's burger, dessert and beverage that makes your McDonald's Family Meal unique, McDonald's always has a Happy Meal Offer for different favorites on the menu.
You can turn any meal into a happy one by choosing your favorite sides like McDonald's Wedges, Cheesy Nuggets, Crinkle Fries, Classic Corn Cups, etc., to your favorite burger: the classics like McChicken Burger, McVeggie Burger, Maharaja Mac Burger, Filet-O-Fish Burger, McAloo Tikki Burger, etc. to the newer, if not more, equally awesome Chef's Special Gourmet Burger Collection with burgers like McSpicy Premium Burger, Triple Cheese American Burger, Cheese Lava American Burger. There are fabulous McSaver Meals that can add more happiness to your McDonald's Family Meal. So that you can complement your meal, there is a list of beverages to choose from, and then end your McDonald's meal with the divine goodness of McDonald's desserts. Is it the all-time favorite McDonald's Soft Serve or McFlurry Oreo or something else?
A special day celebrating parents, family, and togetherness needs a special offer. The McDonald's App has numerous deals and offers that can turn your McDonald's Family Meal into a Happy-Happy one! Wish to stay indoors and enjoy the comfort of your space? Order on the McDelivery app  or McDelivery website, or make it a family day out at your nearest McDonald's restaurant. Be it Parents' Day or another special day for your family, keep the wholesome and indulgent food on point with McDonald's!