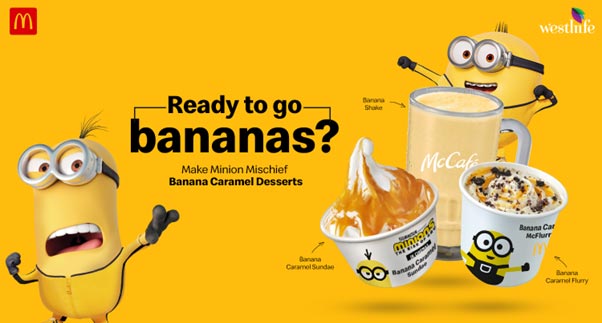 Don't you agree that the cherry on top after a hearty meal is dessert? It is the perfect palate cleanser after a rich, wholesome main course. Or are you someone who wouldn't mind sweets as an appetiser and main course as well? Well then, McDonald's desserts are some of the best indulgences out there.
Everyone is aware that movies and McDonald's work together like magic. Speaking of movies, you have heard what is in theatres right now, right? Yes, it is the Minions: Rise of Gru. If you are a true fan of these iconic evil but adorable masterminds, then you definitely know what they are obsessed with-bananas! It is kind of insane that they like bananas so much that they speak it and also look like it!
To match this onscreen yellow glory, Mcdonald's Desserts have whipped up something as crazy good as the Minions. If you are a Minion lover with a sweet tooth, then it is only going to get better. *Cue the Minions' ba-ba-ba-na-na* McDonald's presents the Banana Caramel McFlurry, Banana Caramel Sundae, and Banana Shake. Break away from your regular choice and let your taste buds try something new with these McDonald's desserts.
Here's a dollop of words inspired by the feeling of going "para-pap-pa" from the yummy McDonald's Banana Desserts.
The movie is starting let's hurry,
But don't forget to grab your Banana Caramel McFlurry!
Let's fight the blues of Monday,
With a chilled Banana Caramel Sundae!
Does the hustle of the city make you want to take a break?
Then sit back and have a Banana Shake!
Go bananas and catch the fruity flavours of banana blended together with caramel at your nearest McDonald's outlet.