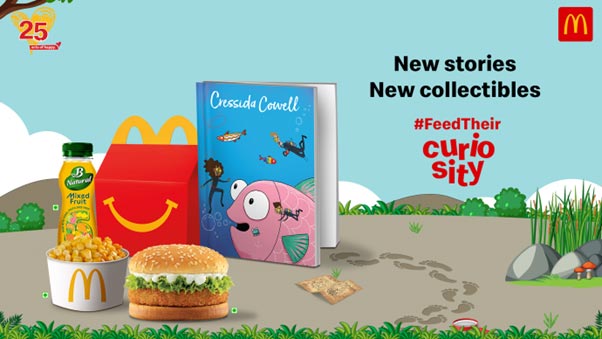 "There is more treasure in books than in all the pirate's loot on Treasure Island."
Did you know that National Reading Day is right around the corner, and what better way to celebrate than with a hearty meal and a lovely book? Gather your little ones and head over to the nearest McDonald's outlet for nourishment for the body and the mind. You're not going to get just any book, it's going to be an exclusive McDonald's book line-up called Tiny Detectives. It is written by none other than the award-winning British author of the How to Train Your Dragon series, Cressida Cowell. You can choose your pick from the two new books launched every month.
Let's not just be Happy Meal Eaters, but also Happy Meal Readers! There is yummy for the tummy and the mind. Push the boundaries of your imagination along with the company of your family. You will find yourself narrating captivating stories that spark curiosity about the elements of nature that interact with us every day. Make it a read-aloud exercise, adding your touch of creativity and making the experience even more exciting! It is a wholesome indulgence of food and words, all at once.
What we choose to keep around us says a lot about us. So many individuals from all over the world have collections of items that are incredibly beloved to them. From vinyl records to currencies, stamps, postcards, airline tickets, antique furniture, vintage cars, fandom merchandise, and even Happy Meal toys, there is something that everyone loves. It is about gathering everything that you hold dearest.
Have you thought about making the McDonald's books a collectible? It won't just be a collection of children's books on your shelf, but also a treasure chest of moments that are memorable for life. Moments of anticipation before your order arrives. Those "oops" moments where you grabbed your meal while it was still steaming hot. Moments where you channelled warrior energy to fight for the last French fry. The moment you got your first book from the McDonald's counter. Moments the whole family got lost in the adventures of Tiny Detectives.
The fragrance of the pages will drench you in a cascade of moments, memories, and emotions of warmth, happiness, and togetherness. Don't forget to take your pick from the McDonald's books, a souvenir of happy meals and happy times!