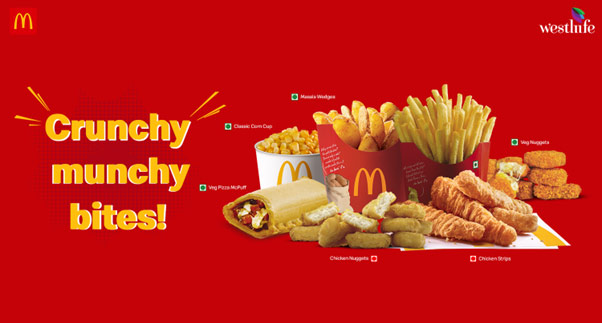 Be it a hot summer day or a pleasant breezy one, every once in a while, the tastebuds crave munchies, isn't it? McDonald's India menu includes McDonald's Chicken Nuggets, Big Spicy Paneer Wrap, McDonald's Cheese Nuggets, Chicken Strips, and more, offers both munch and crunch that one can either have on the side with one's favorite McDonald's burger or let's call it a meal in itself for those light and snacky days. McDonald's menu has got a lot to offer!
With the monsoon setting in, the mood for light bites and a cup of tea or coffee with some serenading music will most likely set in. And for such days, McDonald's India menu has some of its no preservatives, no artificial colors, and no artificial flavors items. Yes, it's real food, real good even for munching times. So, you get to keep a check on your calories even when you are snacking. Did we just see you smile?
Now, if you are looking for the chilled beverages to go with the McDonald's quick bites like McDonald's Cheese Nuggets, Big Spicy Paneer Wrap, Masala Wedges, McDonald's Fries, Classic Corn Cup, Chicken Strips, Loaded Masala Wedges, Mexican Cheesy Fries, McDonald's Chicken McNuggets, there's a list of refreshing, fruity, chocolate chilled beverages as shakes, smoothies, splash, chillers, etc. When you order any of these, it's delivered in the uber-cool EZ Delivery pack. Convenient, reusable and user-friendly!
An easy evening with friends or colleagues, match time sesh with the homies, banter times with siblings and family get-togethers, or just chill scenes watching your favorite movie back-to-back or reading a book in your cozy corner, McDonald's munchies menu is all set to give you company.
Look up the McDonald's McSaver Menu on the McDelivery website or app to find some yummy deals on McDonald's finger food with chilled beverages.