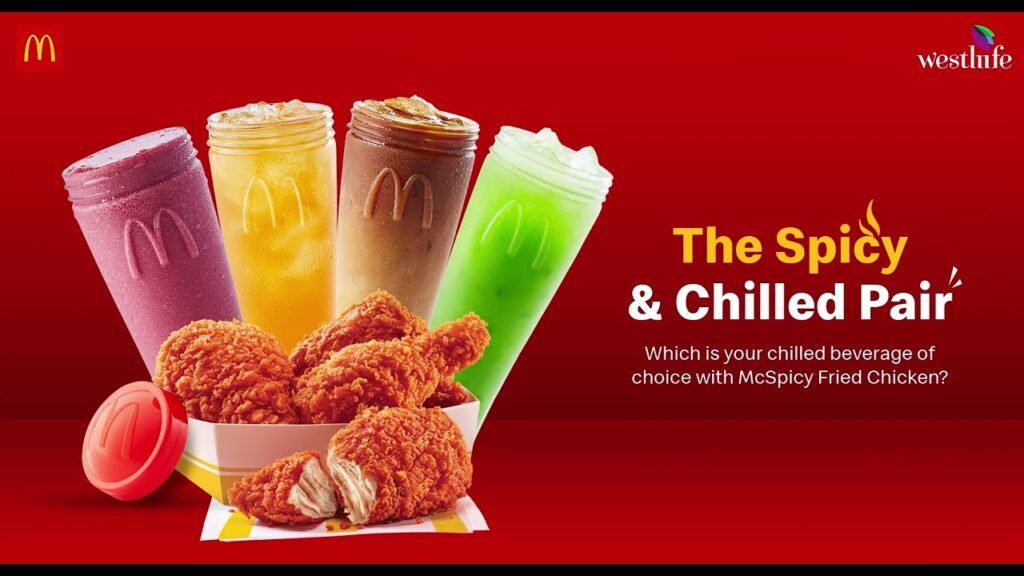 Who wouldn't agree that it's about the balance of flavors and temperature that makes for a delightful gorging experience? When the tastebuds yearn for the spicy tingles yet want to complement the experience with slurps of the chilled and sweet beverage. Getting the food nuances in place for your happy McDonald's meal experience is what we are going for!
It's no different when it comes to the fiery and tempting McSpicy Fried Chicken. The crunch of the golden-brown crust fried to perfection to every bite of juicy, spicy flavors (marinated in one of the spiciest chillies out there – Ghost Chilli Pepper) that runs deep to the very core of the McSpicy Fried Chicken is all crafted for the aha moment. And we want to remind you, there is no artificial flavorings whatsoever! Now, it's understandable that you'd like to balance the sizzling spicy flavors with a sip or more of your favorite beverage from the McCafé Beverage Menu or McDonald's chilled beverages. Here it is, we've got it all for you…
Fruity Splash & Chillers
Light, refreshing gulps is what you are going for with your McSpicy Fried Chicken? Our Raw Mango Fruits Splash, Lemon Chiller, Green Apple Chiller and Strawberry Chiller are the chilled beverage companion you are looking for!
Smoothies & Shakes
When you are turning your McSpicy Fried Chicken bites into a wholesome McDonald's meal experience, an indulgent variety of McDonald's Smoothies and Shakes is what you can order for. Shakes like Strawberry, Chocolate, American Mud Pie and Mixed Berry Smoothie and Mango Smoothie leave the tastebuds with memorable sweet endings.
Ice Coffees
McCafé beverage menu of iced coffee variants will satiate your craving for coffee after spicy nibbles. There's the McCafé Iced Americano, McCafé Ice Coffee, McCafé Mocha Frappe and the non-caffeinated McCafé Chocolate Frappe.
Nimbu Fizz
Fizzy lemon drink with a tangy-sweetness adds another flavor to your McSpicy Fried Chicken experience. Bite-sip-bite will be a great way to enjoy your meal combination. Confused, or have you made up your mind on your favorite spicy – chilled pair already? All set for your next order? McSpicy Fried Chicken is available in select restaurants in the South region. Step in to your nearest McDonald's restaurant or if you plan to order in, visit McDelivery website or app. Experience the chilled beverage in the all new EZ delivery, reusable bottles when you order in. Enjoy the subtleties of the flavors, the lip-smacking McSpicy Fried Chicken and your favorite chilled beverage meal.