This match season, who are you cheering for? What's making a louder noise? Your grumbling tummy or you in all the excitedness towards your favorite team? Are you checking up on the live updates on work breaks? Or turning your space into an evening match pad? Whistling and cheering or a running commentary, what's your style? Don't forget, whichever way you decide to cheer for your favorite players and team, you and your match buddies need to be fuelled to the T. And McDonald's India Menu is set to cater to your match time munchies.
McDonald's has got the much-needed flavor boost and wholesomeness packed for any given day. Especially match day! So, load up with something light to nibble on, or if you are turning the match hours into a full-meal time, we've got you sorted! If a nail-biting match with your favorite player or team is turning into one that needs to be celebrated, we've got McDonald's desserts to bring in the celebration with sweet indulgences.
Gourmet Match Meals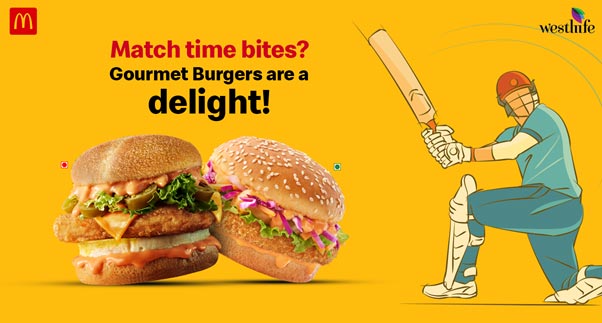 When you are looking to turn your cricket match viewing time into a McDonald's meal time, and would prefer a gourmet indulgence with fresh ingredients, you've got McDonald's Gourmet Burger Collection that fits the bill. The spicy and cheesy variants have options for a wholesome and indulgent meal. Plan your match watching sesh in tasteful ways to go with the vibe of the moments. McSpicy Premium Burger or the Cheese Lava American Burger, which one would you go for?
Light & Snacky Quick Bites
Quick, easy bites is your style for match time get-togethers? We've got a list of McDonald's items to give you company. The all-time favorite McDonald's Fries, Masala Wedges, Nuggets, Chicken Strips, and more for the light bites, glued to the cricket match screen moments.
Desserts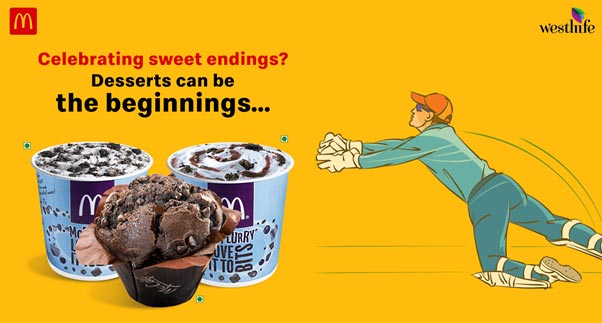 Nothing marks a win better than desserts, don't you think? We are with you on that! Get clean bowled on the McDonald's Dessert Menu and choose from the season's favorite McFlurry Oreo or Soft Serve you cannot resist, or the chocolate or vanilla muffins to make it a quick sweet bite.
As you gear up for the season of cricket matches, we are ready to add more yummilicious food fuel to your excitement. Step in to your nearest McDonald's restaurant or order in from the McDelivery website or app and cheer on!