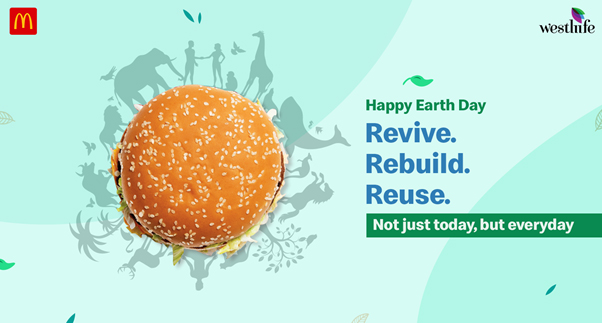 McDonald's India – Westlife Development plays an active role in providing smart and sustainable solutions for a happy world. Resources are mindfully utilised to conserve what is left of the Earth, and rebuild it. McDonald's India has its focus is on many aspects of the environment, with an objective of net zero consumption. Resources like Water, Electricity, Gas and Diesel are carefully used, and reflect a positive impact year on year.
Reducing Carbon Footprint: Steps have been taken across restaurants where use of LED bulbs, economisers, evaporative coolers, stores with roof top solar panels and more have resulted in saving electricity, gas and diesel. Up to 7500 metric tonnes of carbon dioxide has been saved in 2020 -21 which translates to planting 3.5 lakh trees. The amount of power saved is enough to fuel 13 average sized villages for a year.
Water Conservation: Water conservation is an important part of this sustainable objective. Right from saving finite sources of water at the many stores to steps taken at the farming level, McDonald's India – Westlife Development utilises every opportunity to conserve water for a sustainable world.
As part of the initiative, Environment Management Systems are integrated in 100+ restaurants: Waterless Urinals, Low Flow Aerators, RO Rejected Water Re-Use, High Water Recovery RO Systems, have all led to saving liters of water that can sustain a household of 4 members for at least 30 years.
The sustainable approach to conserving water is also applied at the farm level. A large number of local and small farmers that we are associated with for our fresh produce are also offered know-how on good agricultural practices, weather related information, crop protection information, water conservation information and good practices on drip irrigation, etc. We encourage the use of drip irrigation to minimise water consumption.
Waste Management & Travel and Transportation: Reutilising available resources is also a part of meeting the sustainable earth intention. Using used cooking oil to produce 100% bio-diesel program has resulted in producing 5,700 liters of biodiesel and over 6 billion liters of water from pollution due to waste cooking oil.
Use of Plastic & Paper: McDonald's India has eliminated all single use customer facing plastic from our restaurants that has resulted in saving close to 250 tonnes of plastic pollution. We also source only Forest Stewardship Council (FSC) certified paper for packaging. In one of our latest initiatives, we have changed our chilled beverage delivery packaging to EZ bottles, user-friendly reusable bottles that are not single use plastic.
McDonald's – Westlife Development continues to take steps towards conscious and sustainable living. This Earth Day, is yet another reminder of the many things we can and continue to do to share a happy and sustainable earth with all.