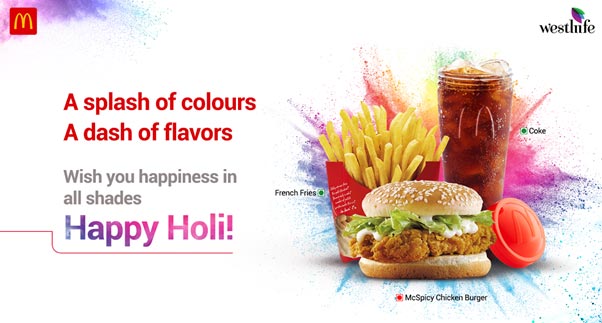 The festival of colors is here! Welcoming the harvest season and the season of abundance that is spring. Have you planned the Holi festival day in the company of friends, family and yummy food? A Holi themed party on the cards? A day that brings together loved ones, crazy dance music, vibrant colors and the cheerfulness to welcome the spirit of the spring season. With all the happy things coming together, when it comes to happy and indulgent food, McDonald's flavors are just a call away!
After all the fun and play, the hungry tummies need something yummy and wholesome to keep the Holi festival party going, isn't it? Quick munchies like the McDonald's French Fries, Masala Wedges, Piri Piri Fries or light bites like the McSpicy Fried Chicken (available in South India), Veg Pizza McPuff, Cheesy Nuggets, etc. to kickstart the Holi celebration or more wholesome meals to refuel the festival energies, McDonald's India Menu has the truly Indian burgers to go with the day's festivities or you could also choose the Chef's Special Gourmet Burgers, meals and more to satiate the hunger and complement the mood of the day. Choose your McDonald's favorites from our Holi Festive Combos right away!
While you are celebrating the vividity of the spring season with a range of colors, McDonald's India has a range of flavors to go with the celebration. Spicy, Cheesy, Sweet, Hot and Effervescent, bring in the festival of colors with happiness, good vibes and indulgent flavors.
Order in for your favorite McDonald's burgers, meals and more from our McDelivery website or app or you could drop in to the nearest store to add flavors and colors of happiness to your celebration.