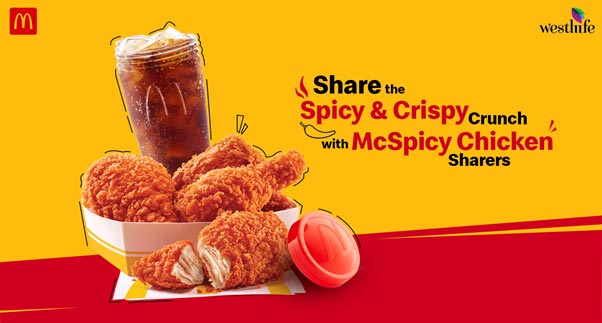 Spending quality time with friends, family members and colleagues are few of those most precious moments in life, isn't it? Sometimes it is about reminiscing the good old days, sometimes it is about creating moments that turn into fond memories. Be it any reason, we want to make sure you've got an equally yummy and indulgent McDonald's meal to go with such moments.
McDonald's McSpicy Fried Chicken Sharers are just that! Complementing catch-up sesh, quick meetings, cravings, in the mood for something spicy food stories, and more. When awesome people get together for all the spicy conversations, it has got to be the spicy best food companion filling in such times. Let's take you through what the McSpicy Fried Chicken brings to the table in different sharer combinations of duos, trios and five pieces. A little trailer before you indulge in the McSpicy Fried Chicken Sharers from the McDonald's India Menu (South Region) yourself!
Red-hot Spicy
Here's chicken that is marinated with Ghost Chilli Pepper (Bhut Jhalokia), one of the hottest peppers in the world, yes, you read it right, the spiciest ones out there. This one isn't for the faint hearted but ones that need the red-hot spicy quotient roaring in.
Crispy to Juicy, that's the journey
The McSpicy Fried Chicken batter gives it the perfect crispy coating that a fried chicken lover can tell from a distance. The batter leaves no inch uncovered, and ensures every bite is an absolute sensory delight!
Flavors That Run Deep
The hottest pepper, Ghost Chilli Pepper that is the protagonist of the marinade lends the spiciness to the very bone. The spicy flavors aren't only on the frills but promise an experience that lingers till the last bite.
Snack-alicious yet wholesome
The crispy, spicy, delicious McSpicy Fried Chicken can be experienced in different combinations. You can choose to bite into a single one, double sharers, trio sharers or a five-piece sharer. Sigh! What a treat this McSpicy Fried Chicken Sharers are! The next time you are in a McDonald's restaurant in the South India region, don't miss this spicy indulgence. You can also place your order on the McDelivery website or app to call in for the McSpicy Chicken Sharers. Raise the hotness bar of your get-togethers with this spicy one!