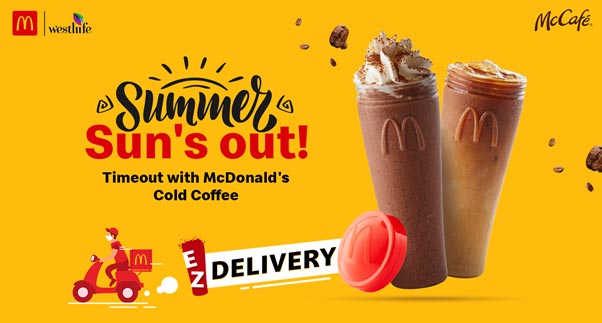 When the summer heat sets in, a chilled beverage is the way to cool it off. To add to that, if you are a coffee drinker who swears by a rich and smooth coffee at all times of the year, McDonald's Iced Coffee range from the McCafé Beverage Menu is what you'd have a soft corner for.
And who wouldn't? When the coffee that's on its way to you is handcrafted with fresh ground beans and served by our skillful baristas. These are the dexterous hands that ensure your cuppa coffee is of refined taste and aroma. Not to forget, the Arabica beans used and the fact that McDonald's coffee is devoid of powdered milk. Made for true connoisseurs of coffee.
Every little detail: the quality of coffee beans, right quantity of coffee, the perfect brew, getting the texture to perfection and temperature on point for that satisfying McDonald's Iced Coffee experience is what our baristas take most of the credit for.
It's not just the classic McDonald's Iced Coffee but the more blended variants like the McCafé Iced Americano and McCafé Mocha Frappe that are a blessing for the summers and beyond.
McCafé Iced Americano
If espresso shot is what you usually need when it comes to your coffee, your chilled joe can might as well be the blend of perfect espresso shot mixed with ice.
McCafé-Ice Coffee
The right drop in temperature to go with the sweltering heat. An irresistible combination of our signature espresso and soft serve. Coffee and soft serve: is there a better combination, really?
McCafé-Mocha Frappe
Blend it like McCafé Mocha Frappe this season. A refreshing coffee beverage, blended with rich mocha sauce and our signature soft serve. A twist to your everyday coffee. The next time you are close to a McDonald's restaurant and are craving a chilled coffee beverage by itself or in combination to your favorite burger or McDonald's Meal, you've got quite a few options to choose from. And for those who'd like to sip on the chilled McDonald's coffee while indoors, stay put. Visit our McDelivery website or app to get your favorite McDonald's Iced Coffee in EZ reusable and convenient packs that retain the temperature to perfection. What a win-win to beat the heat!