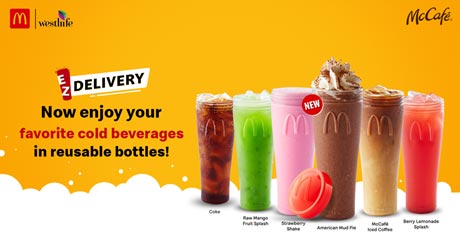 There is no replacing taking a sip or more of that cold McDonald's beverage on a day that you really need it, we get that feeling. For all those times and others, we are making sure ordering in a cold beverage from McCafé is an absolutely cool experience. You know how? It's the latest, convenient, user-friendly, EZ Delivery reusable bottles. Yes, REUSABALE BOTTLES! McDonald's India is making sure your experience is nothing less than perfect, at all times!
The need for a chill break with summer heat setting in, or to go breezy on a hectic schedule is going to be EZ peasy with the McDonald's EZ Delivery reusable bottles. By the way, these uber cool bottles are super convenient. Now double it with the joy of the bottles being reusable and not a single use plastic. Cheers to happy times with more reasons to celebrate.
Just checking, are you a Raw Mango Fruit Splash or Berry Lemonade Fruit Splash fan? Prefer a cold coffee like the McCafé Iced Americano, McCafé Iced Coffee, McCafé Mocha Frappe or McCafé Choco? Swear by that thick and sinful Chocolate Shake or the American Mud Pie? Or the one who craves for strawberries all season and reaches out to the Strawberry Shake or the Mango or Mixed Berry Smoothie? To tell you the truth, whichever of the McDonald's cold beverage is your love interest, we've got the experience of having a cold beverage when ordered through any one of our delivery channels sorted with the EZ Delivery reusable bottles. Doesn't matter if it's a favorite or many favorites you've got. Order in at ease and enjoy your chilled beverage the way it is meant to be.
Get your hands on the reusable bottles on the McDelivery website or app or when you order from any one of our delivery partners. So, the next time you think of your much-loved McDonald's cold beverages, and order in online, get ready to experience it in the EZ Delivery reusable bottles. And hey, without a doubt, add more joy by treating yourself to your favorite McDonald's burger or wrap, or is it fries?