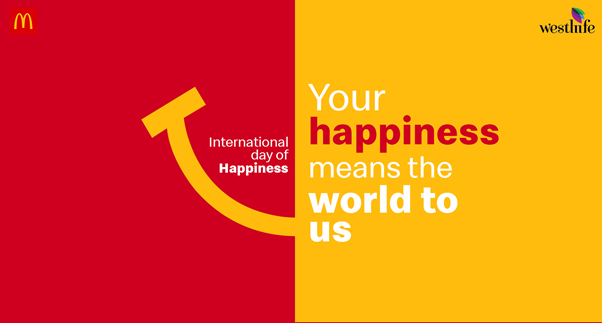 McDonald's is the place that brings together many reasons to celebrate the everyday. A birthday celebration, special meals with a loved one, family get-togethers, a hangout space for friends to catch-up, a place to unwind with your favorite McDonald's meal, there are countless special moments created at McDonald's. With wholesome and indulgent meals to fun and engaging activities, there is something for everyone in here! Many special McDonald's memories have been created and cherished over the years. On this International Day of Happiness, we are celebrating them all!
It's not just the new, wholesome and indulgent items on the McDonald's Menu, but also engaging initiatives that make McDonald's a happy place for everyone! Be it the Happy Readers that feeds the curiosity of the young minds and takes them into a new world of possibilities with amazing books by Cressida Cowell, RMHC Family Room at BJ Wadia Hospital, Mumbai, that shares a space to unwind for young ones and their family fighting cancer, the different 25 Acts of Happy and more that usher in joy for everyone. It is also thoughtful introductions like the EatQual packaging that makes it easy for those with upper limb disability to enjoy a McDonald's burger. All of which makes McDonald's a truly inclusive space. One that shares happiness with all.
Well, coming to the best part, it's not just our customers who share the joy of being a part of the McDonald's journey, it's also our enthusiastic employees who share the love of being a part of the team, and it shows!
While engaging in all the fun and engaging activities, safety and health is top priority at McDonald's. The Golden Guarantee Promise that ensures a strong safety net for our customers and McDonald's staff, ensures a happy and confident workforce. Afterall, it's a happy workforce that creates a happy place for our customers to hangout.
This International Day of Happiness, we are celebrating all the days, life's everyday moments both big and small that have added special McDonald's memories to your life. While we continue to add more to the happiness quotient at McDonald's, we wish you more reasons to smile, and spread happiness with the world around you!