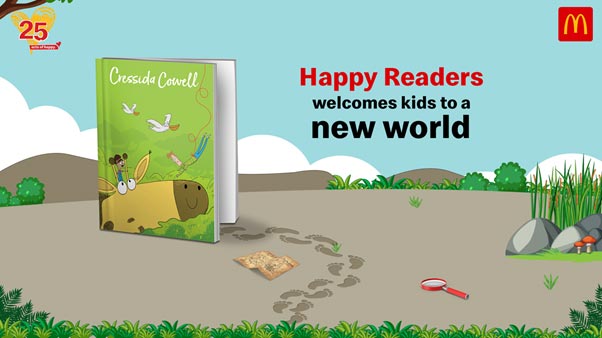 What are your plans for the kids' summer vacation? New activities, a good amount of on-ground play, encouraging them to socialise, some screen time and bonding over new found interests? If summer time story book reading is a thing of nostalgia for you, why not share the experience of diving into the depths of imagination and stories with kids around you? Isn't it a beautiful experience filled with amazing anecdotes?
Did you know, kids' favorite McDonald's Happy Meal is not just about a wholesome indulgent burger, nutritious corn, the zero preservatives and no added sugar mixed fruit beverage, and toys. There is more that is a part of the McDonald's Happy Meal, and that is the Happy Readers!
Summer time activity just got even more exciting with McDonald's Happy Readers for kids! It's time to welcome kids into the world of stories that help uncover many questions and feed their curiosity with McDonald's Happy Readers. For kids six years and above, here are engaging stories to encourage them to spend time with books, and bond over story-telling sessions. And what a story-teller it is! None other than the celebrated, award-winning British Author, Cressida Cowell, known for her engaging children's series. She is also currently the Waterson's Children's Laureate (2019 – 2022). The Happy Readers books include a series of 12-books titled 'Tiny Detectives'. The books travel through imaginative tales of spiders, trees, stars, koala bears and more. Unveiling a world that captivates young minds.
What a wonderful way to celebrate happy times together. Munching on one's favorite McDonald's Happy Meal while feeding not just hungry tummies but also curious minds. The next time, you are wondering what to do on a lazy summer afternoon, or a relaxed Sunday, or just about any other day, walk in to your nearest McDonald's restaurant, and place a request for your kids' favorite Happy Meal, and choose one of the two books that your little one would be delighted to dive into! Take home a bagful of stories, and happy memories of tales to tell.