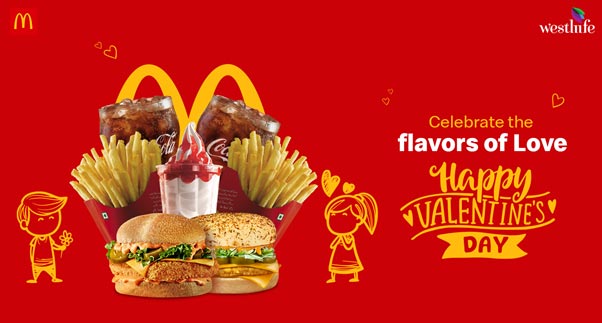 Being in love is a beautiful feeling: heart fluttering, excitement, smiles and tears of joy, blurring out everything else. The feeling that wraps you with warmth like no other. One that transcends gender, beings, things and makes it so special that one wants to stay in it, talk about it, share it with the world.
We wish that you are wrapped in its embrace as well. To make sure, you are making the most of this special day, McDonald's unwraps Valentine's Day offers especially for you. Be it your McDonald's favorite items or something you wish to experiment from the menu, we have Valentine's meal deals available with our VDay Special Combos. Be it just the two of you or if you are celebrating it with your near and dear ones, your favorite peeps, or your cupid, there is something for everyone.
Share the love, spread the joy. We also have the McCafé #2plus1 – an Act of Happy celebrating the cupids in our lives. Nothing fills you up like a good ol' McDonald's coffee. We're hoping you've participated in our #2plus1 activity already on social media where you've taken the opportunity to thank your cupid in a story/ post, tagged us and let the world know. We've got something planned -McDonald's special coffee for all three. Make it a day to remember!
We wish you a very happy Valentine's Day and hope that you make more happy memories to cherish.