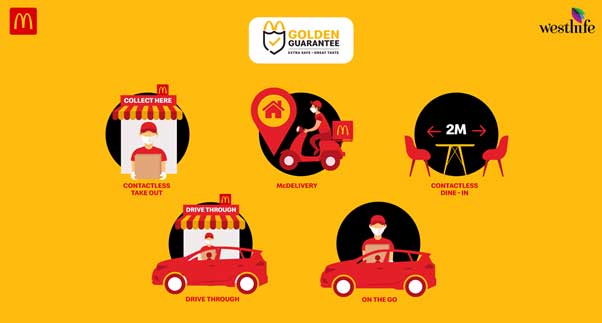 At McDonald's, we want you to have a happy and memorable experience every time. To make this happen, we ensure an indulgent menu to your everyday moments. While we're at this, we also make sure safety is a part and parcel of everything we do.
Our Golden Guarantee Promise is a reflection of McDonald's Health and Safety. Be it food safety and hygiene, ensuring safety for all our employees, partners and our customers, we take all the necessary safety precautions to make it a seamless and worry-free engagement.
McDonald's food safety, safety through contactless dine-in, delivery, on-the-go and takeaway, drive-thru, we take all the measures to provide an end-to-end safe experience for anyone and everyone engaging with McDonald's.
All our team members are double vaccinated and take every precautionary step to stay healthy and bring their best self forward. Each one of us cares for our customer's well-being and maintains food safety and hygiene as per set standards.
Whichever be the way you choose to enjoy your favorite McDonald's meal, we are happy to provide the safest and enjoyable experience to you.
Fromordering in your favorite food in a contactless manner with the self-ordering kiosks for Contactless Dine-in to On-the-go service where you can order online and get the McDonald's order delivered in a contactless way in your vehicle or the Contactless Takeaway or Contactless Delivery by placing an order on the McDelivery website or app, safety is at the core of it all.
Food safety and hygiene is maintained thoroughly as per safety guidelines. On receiving an order, food is freshly prepared without direct contact with the bare hands. The team at McDonald's wears protective gear while handling food in the kitchen. Social distancing is maintained at the stores and is put into effect with the help of alternate seating arrangements and floor markers as indicators.
Safety standards are also maintained and followed by our delivery agents. While food is packed and sealed to avoid any kind of contamination, the delivery partners' bags are also sanitised thoroughly. You could choose to receive the McDonald's order at your doorstep in a contactless way or directly pick it from the rider.
There's nothing stopping us from bringing you indulgent and flavorful items to relish in a safe way. You could drop in at the McDonald's store nearest to you or opt for any of the contactless options available. You could also take a look at the McDelivery website or app and order McDonald's online.