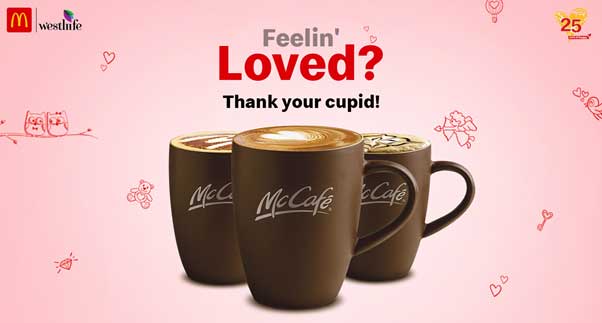 It's the season of love. Spring time blossoms, birds, bees and butterflies fluttering around, while Valentine's Day is just around the corner. And guess who we're thinking of? Cupid of course! Love wouldn't be the same without cupid, right? All those who make slipping into love easy, creating moments of accidental meets happen, helping in conversation starters and so much more until the lovers finally find out – voila! we're in love.
We want to thank you, Cupid. And so, McDonald's celebrates this season of love with another Act of Happy. McCafé #2Plus1 because cupids are the ones making it happen!
Thinking of your cupid already? Wait, who was it? A friend, a teacher, an ex, the watchman, your sibling, the BFF, your friend's mom? Someone no one can guess? Well, we'll just say celebrate them for making this day and the others very special for you.
Now, let's get to the celebration part already. Shout out to your cupid with McCafé #2plus1 to thank them for the love story they helped weave. Let the world know, share your story/post thanking them on social media, don't forget to tag us and use #2plus1. And turn it into a date with not just you and your partner but also cupid. We're ready to send you on a McDonald's special coffee date. Time to say cheers to cupid with coffee at McDonald's and relive moments with unending happiness and stories. What a day to relive each of those moments with the person who got you celebrating this Valentine's Day in the lovey-dovey spirit, right!
And hey, feel free to go all out and dig into your best McDonald's meal as you three chat away! McDonald's India menu has a whole bunch of flavorful and wholesome items waiting for you. Be it the best McDonalds meals, best McDonald's burgers or any of the items in between.
Well, we're super excited to hear about all the awesome cupids out there! So, let's celebrate love from the beginning. Keep the stories comin' on social media. Let's make it more the merrier this season.