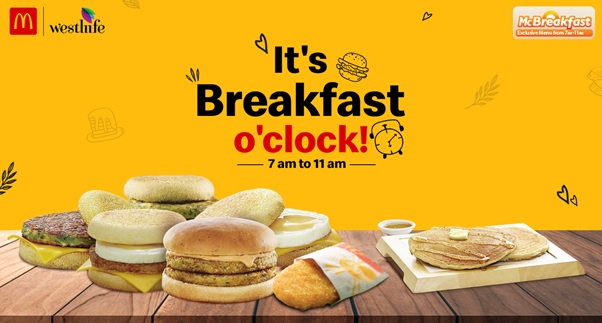 When morning starts slow…
Setting your pace for the day can be a challenge sometimes, but indulging in delectable breakfast at McDonald's, isn't! McDonald's breakfast menu makes sure to back you up with enjoyable flavors and nutrition so that you get started in a spirited way.
Need a little food motivation to start your day? McDonald's breakfast menu has options both veg and non-veg. Some items mild and tasty to other things rich in masala, tell us what you'd like to start your day with. We're ready to break your fast.
McDonald's Breakfast Menu to the rescue!
For those looking for something mild and tasty, Classic Scrambled Egg is what you could order. Would you like to start your day with masaledaar eggs? We've got the Masala Scrambled Egg and Egg McMuffin for your taste. Couple it with your favorite McCafé coffee, tea or chocolate milkshake and you are set to take on the day!
Tastebuds wanting something more than just eggs? Sausage McMuffin with an addition of a freshly steamed egg is what you can call for. A wholesome breakfast is indeed the key to keep the energy going for the day. Scooting off to work, still thinking of running errands, or just a lazy Sunday morning, we have our breakfast menu open till 12 in the noon. Whatever be your schedule, we'll roll out your day with a wholesome and indulgent breakfast at McDonald's.
Hash brown fans, we know you're happy with just that on some days. And for days where you want something more, we've got Veg McMuffin, Cheese McMuffin, Hot Cakes, Dosa Masala Brioche and our Chocolate Chip Muffin and Vanilla Chocolate Muffin if you'd like light and warm bites with your cuppa coffee.
Time for Breakfast at McDonald's
While restaurants that are open 24 hours a day, start serving breakfast as early as 5 am, McDonald's breakfast menu is on between 7 am and 12 pm.
Kickstart your day with delicious items
A late start to the day doesn't mean you need to compromise on your breakfast in anyway. Get clicking and scrolling on the McDonald's breakfast menu before you jump right into your day. Order in from the McDelivery website or app and set the pace for your day, the way you'd have it. Break the fast in delicious McDonald's ways!