---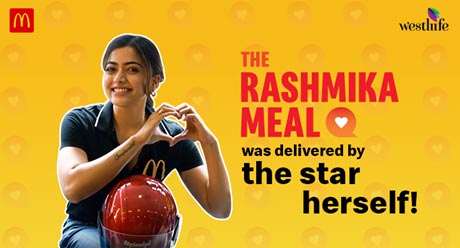 Yes, you read it right! Our favorite star, Rashmika Mandanna hand delivered The Rashmika Meal to her fans as a once in a lifetime experience.
Imagine the moment, when you randomly scroll through the McDelivery website or app, order the lip-smacking McDonald's Rashmika Meal, and guess what – a few minutes later you hear your doorbell. Just a McDonald's order, no big deal, right? Well, this was different – the star delivered the McDonald's Rashmika Meal herself. An unimaginable, unexpected surprise right at the doorstep!
Who wouldn't be thrilled to experience their meal delivered by their favorite celebrity? The customers were seen interacting and gushing in excitement with Rashmika about the favorite's favorite meal. Clicking pictures, laughing and enjoying the pompous celebration of their favorite meal in nothing less than a star-studded affair… literally!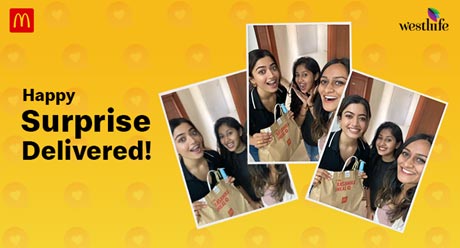 It was indeed sheer exuberance and delight, the delivery of The Rashmika Meal to Rashmika's lip-smacking McDonald's favorites that got into the meal.
The Rashmika Meal, a balance of spice and everything nice, was a limited time McDonald's Famous Orders Meal available in the South region. It came with the McSpicy Fried Chicken, the fiery Piri Piri Fries, including Rashmika's favorite creamy Oreo McFlurry and Nimbu Fizz on the side. An indulgent combo undoubtedly.
If you've been wondering how the star enjoyed her favorite meal, that's no secret after all! The first bite was dedicated to the McSpicy Fried Chicken, followed by a judicious amount of the fiery Piri Piri fries. This was balanced out with a gulp of the Nimbu Fizz and ended on a sweet note with the creamy McFlurry.
While the star has accumulated many memories through this journey, we're hoping you too found the chance to taste The Rashmika Meal and relished it in your own way!Disclaimer: The video depicts an order delivered by Rashmika Mandanna personally, however customers should not infer that further orders will be delivered by her.