The McDonald's Promise
One thing is for certain, even in trying times, happy moments can still be accessible. And for this to be possible, McDonald's India offers the Golden Guarantee Promise with a 100% Safe and a 100% Delicious brand experience to each and every one. As part of this promise, we maintain world-class standards of McDonald's health and safety through every experience – be it contactless dine-in, contactless take out, on-the-go delivery or contactless delivery at the doorstep.
Bringing Alive the Golden Guarantee End-to-End Safety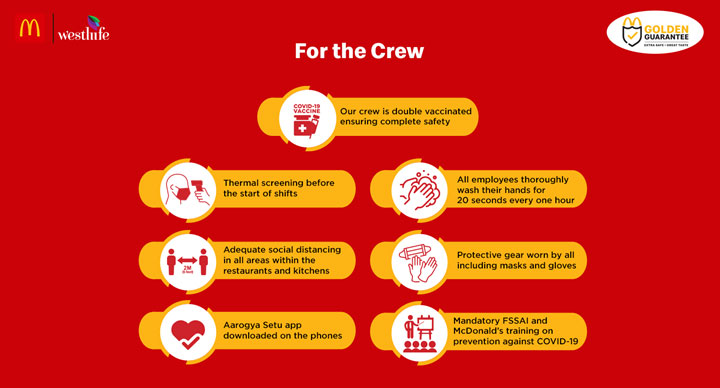 Our McDonald's staff is prepared to cater to your needs following every safety guideline for a relaxed and worry-free McDonald's experience. Our crew that is double vaccinated is trained to provide a top-notch safe experience.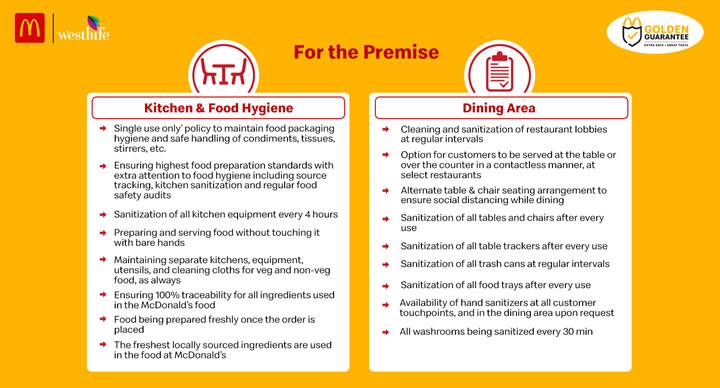 If you are comfortable with the idea of ordering in or taking away from the nearest McDonald's outlet, our takeaway options are amongst the safest ways to indulge in a sumptuous meal. We have periodic check-ups of our entire staff, followed by stringent temperature check-ups of all our customers, Aarogya Setu app being mandatory for both. We also observe social distancing in the entire store from our customer zone to our kitchens.
Food safety is very important, and we do all it takes to maintain our food hygiene and safety standards. Sanitizers are kept ready to access in the store for everyone's safety.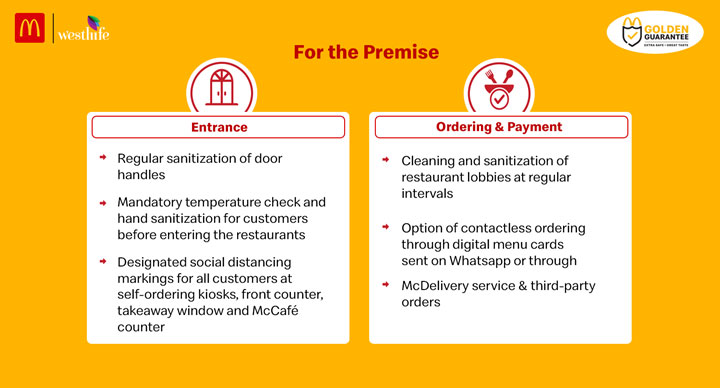 Our McDonald's staff is armed with the best quality masks and safety equipment to make your visit safe, hygienic and memorable!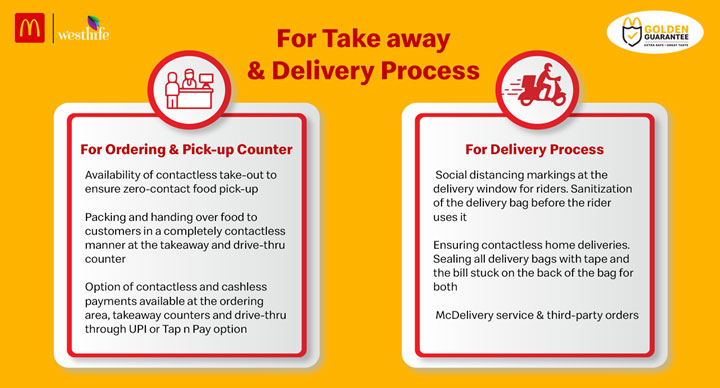 If you find it safe in your vehicle, then you can enjoy your favorite McDonald's meal without leaving the comfort of your car with our on-the-go takeaway option. And when it comes to delivery, it is a contactless option that is practiced, with precautionary measures drawn out for the riders.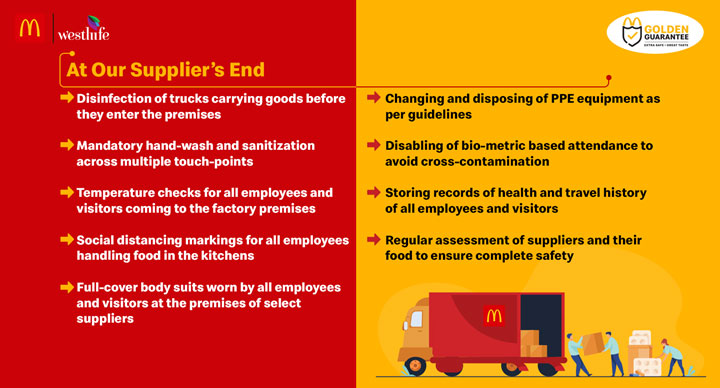 When we talk about safety, we ensure no touchpoint is missed. And that includes processes involving our suppliers who we interact with regularly too. Safety is an integral part of every process at McDonald's.
Delivering Happiness with Safety
Whichever option you choose to order your McDonald's favorite in, rest assured it is a safe way. If you wish to receive it at the comfort and safety of your home, The McDelivery app allows you for that. We encourage cashless payment for our orders during checkout on the McDelivery website or app. In this way, our delivery partners can take the orders without coming into direct contact with you.
If you haven't experienced McDonald's delivery yet, or the on-the-go delivery, we welcome you to do so now. We are making sure nothing comes in the way of you and happiness. All McDonald's restaurants in West and South India have contactless dine-in, take-out and delivery services complying with the local government regulations. Safety is happiness and we offer both!