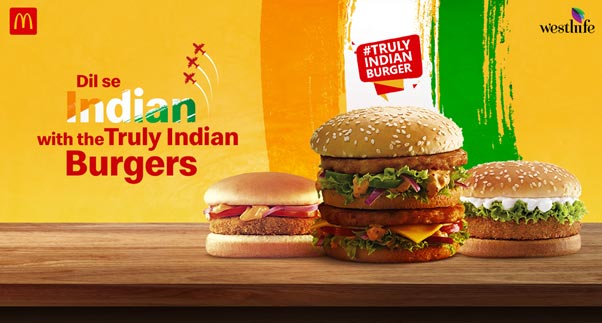 Have you ever wondered what gives McDonald's Truly Indian Burgers – Maharaja Mac Burger, McAloo Tikki Burger and McVeggie Burger the title? On India's 73rd Republic Day, let's talk about all things Indian and that includes our Truly Indian Burgers.
Here's what happens behind the scenes. We source all our ingredients from different parts of India. Yes, it's the ingredients that not only give the burgers the taste and freshness but also lend the rootedness for being truly Indian. Now, are you ready for a little virtual tour to know which ingredient comes from which part of the country? And of course, gives the burgers the unbeatable title of being Truly Indian.
Maharaja Mac Burger
Fondly called Maharaja Burger from McDonald's, this burger owns the title for not just being popular among all but also for the quality of the ingredients that it carries. Well, the truth is in the fiery jalapenos, fresh lettuce, and soft buns. The jalapenos are grown in Karnataka, the crunchy lettuce comes in from the Nilgiris and the buns sourced from Maharashtra. Maharaja Mac's ingredients are a real celebration of being India.
McAloo Tikki Burger
Wish to know what keeps you coming back for more of the McAloo Tikki Burger? We'll keep no secret, it's the McAloo Tikki Burger's ingredients. You wouldn't have known this, but it is the homegrown potatoes from Gujarat and the softest buns that hail from the state-of-the-art facilities in Maharashtra that keep the love growing.
McVeggie Burger
A delight to the vegetarians, there's something more to add to your joy here. The truth behind our crunchy Iceberg lettuce that adds freshness to your burger. This ingredient comes straight from the verdant hills of Nilgiris and the cheese that melts your heart hails from Baramati.
Do we need to say any more about our Truly Indian Burgers? They are as good as they can be with the freshness of ingredients sourced locally lending the unmatched flavors and quality. The essence of our Truly Indian Burgers is not just in the local produce but also how the ingredients come together seamlessly from different parts of India.
If you can't resist the temptation to call for one or many of these burgers, head to the McDelivery website or app and find yourself on the way to celebrate our Truly Indian Burgers in style.