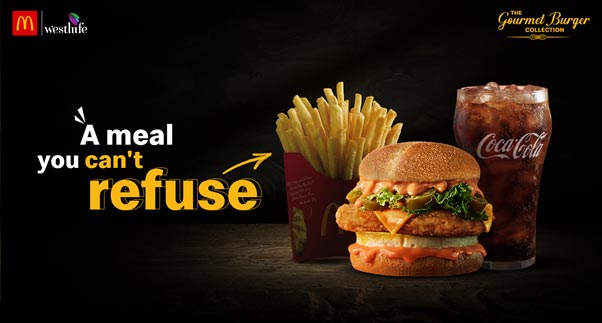 A meal you can't refuse
When there's a nip in the air, growling sound of hunger in the tummy and the want to savor something flavorful, filling and delicious – here's what you could go for. Spicy, cheesy, wholesome, indulgent, flavorful, gourmet veg or chicken burgers – the McDonald's Chef's Special Gourmet Burgers are nothing less than the best burger meals. And hey, it's not just the burger but the complete meal that is calling out for your attention.
What's the mood like? Are the tastebuds craving something spicy to pump up the warmth or nothing better than the melting layers of cheese doubled up with flavors? Or just about any flavor but that big gourmet burger to fill you up wholesomely?
Smile, until you change your expression to devouring the oh-so-yummilicious Gourmet Burger Meal of your choice. Be it the Triple Cheese American Meal with the addition of French fries (medium) and the beverage of your choice, or the McSpicy Premium Meal, Cheese Lava American Meal, Chunky Chipotle American Meal or the Piri Piri Spiced Burger Meal.
When talking about the popular favorites, it's the McSpicy Premium Burger and the Cheese Lava American Burger, with the cheesy overload that's a part of the inviting cheese-oozing patties, or the chilli-licious patties and habanero sauce, in the McSpicy Premium Burger coupled with a host of exotic ingredients that make sure it's a lavish experience that you are in for! And guess what, the Chef's Special Gourmet Burger Meals are now available at a flat ₹320 on the McDelivery website or app. One absolutely doesn't need no reminders for tomorrow.
A feel-good indulgence is what one can do with from time to time, isn't it? It could be you or someone you know; Chef's Special Gourmet Burger Meals make for an even more special gesture. Say it like you mean it – a warm, wholesome indulgence is the love we all need.
While this could be the first thought on your mind, rest assured we have this on our minds 24/7. Safety and hygiene, for everyone. It starts with our crew, the ones out for delivery and you. Choose the delivery option that suits your need best because we have got all of it covered as part of our Golden Guarantee Promise of Safety and Hygiene.
A quick run to the closest McDonald's store, on-the-go delivery, takeaway or order in from the McDelivery website or app, it's all safe, with your meal being both safe and delicious. So, for the perfect flavorful moment, think no further and head straight to what the heart wants. That Gourmet Burger Meal it is!