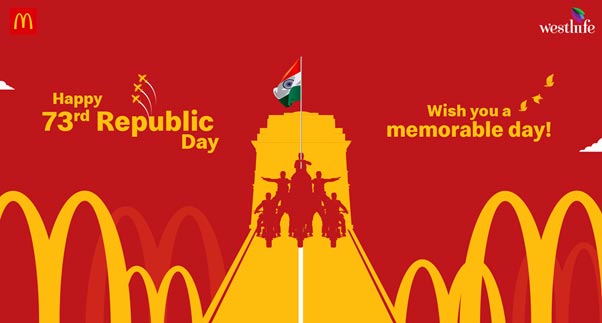 This year marks 73 years for India's Republic Day. If you are planning to keep the day's celebration going, and make it a Republic Day Special, why not reach out for your McDonald's Special items to give you company?
An easy-going breakfast from McCafé, brunch, lunch, snack or dinner scenes from your McDonald's Special Menu, can be your Republic Day special affair. Alongside browsing through India's history, conversations over the table with family about how far we've come, complement your conversations with flavorful, wholesome and indulgent McDonald's special items from the menu.
Bonding Over Burgers
Wish to turn your meal into a burgers only meal? You've got options that could spoil you for choice. The Chef's Special Gourmet Burgers, The Truly Indian Burgers, The OG McDonald's Burgers, name the flavors and you've got a wholesome and indulgent burger to make a hearty and happy fam-jam.
Happy Meals for Happy Times
A wholesome happy meal with the side of corn and B Natural Mixed Fruit beverage without preservatives and a toy for the youngest member of the family awaits. It's all glee when there's happy meal on the table.
Fizzy Conversations with Fries
Something snacky, salted and spicy coupled with bubbling conversations to keep the day's chatter going? Call in for the quintessential McDonald's French Fries, Piri Piri Fries with coke on the side to get the balance of salt-spice and the effervescence of all things nice.
Dessert Discussions
For the perfect topping on conversations, the chilled, delectable desserts are up for grabs. Bring in the McFlurry Oreo, Chocolate Chip or Vanilla Muffin or the Brownie Hot Fudge. End it on a sweet note.
26th January special can be as memorable as you make it. Whichever way you choose to experience your McDonald's favorites – be it takeaway, on-the-go, dine-in or delivery – each of the experiences is contactless and safe to the T.
Are you warming up to the idea of a Republic Day Special with McDonald's? Take a look at what's waiting for you on our McDelivery website or app and make the most of the day!