Happiness translates to freshly baked muffins and there is simply no argument to that. It is said that a muffin a day, keeps the blues away. Now pair it with a cup of perfectly brewed coffee and there you have it – magic in your mouth. Absolutely nothing can go wrong with this classic combination. The delicious McDonald's muffins, not only make a tasty dessert or a perfect snack, they are great for breakfast too. Pair any of the muffins with a hot cup of coffee and you are ready to beat the blues, beat the cold and conquer the world!
Life is Better with Coffee and Muffins
You ain't seen muffin yet, until you've had a taste of these beauties! The comforting McDonald's Muffins come in two delectable flavors – chocolate chip and vanilla chocolate. Whichever one you pick, it is guaranteed to make you swoon. And may be indulge in a second one!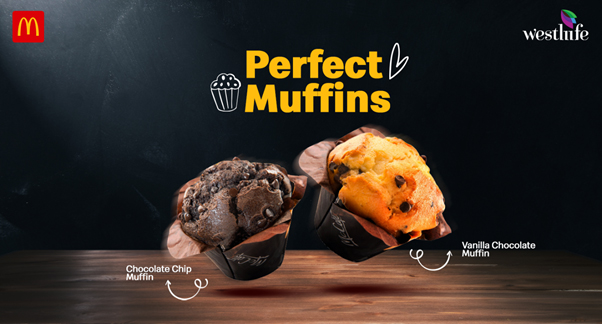 Chocolate Chip Muffin: Soft, fluffy, and bursting with chocolate chips, this muffin is loaded with chocolate! Combine it with a coffee of your preference and voila! you are set for moments of bliss.
Vanilla Chocolate Muffin: Sweet-smelling, soft, and fluffy vanilla flavored chocolate chip muffins are perfect accompaniment with hot coffee! Give yourself that moment of calm indulgence with a muffin bite here, a hot coffee sip there.
Well, there's muffin else to do, but make a dash to your nearest McCafe outlet and sink your teeth into one of these for a trip to food heaven and back. Enjoy the season's merriment with the McDonald's Chocolate Chip or Vanilla Chocolate muffins alone, or choose the perfect coffee to go with it. You can also order from the McDelivery website or app to relish it at home. Give them a try, and you'll find yourself coming back for more.