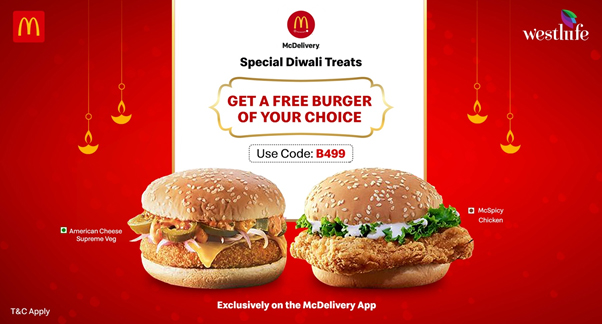 This year, Diwali is extra-special.
With last year having been a muted affair, this year's festivities have been long awaited. Which means, Diwali parties, house parties, plans to meet near and dear ones, family get-togethers and a whole lot of gupshup! So, why not give your get-together a McDonald's twist? Make the occasion all the more special with McDonald's Diwali offers that have something for everyone!
From McAloo Tikki to McFlurry's, Masala Wedges to Fries, American Cheese Supreme to the indulgently delicious Gourmet Burger Collection, there are special Diwali offers on McDelivery this festive season.
McDonald's delicious Diwali treats not only include your favourite items, but it also ensures that the entire family is sharing the festive feels together! With no one juggling in the kitchen.
So, what are you waiting for? Walk into your nearest McDonald's outlet or order in for delicious Diwali treats, give your loved ones an added reason to say – I'm lovin' it!
Are you all gathered at home? Head over to https://www.mcdelivery.co.in/home/Festive-Veg-Combos or use the McDelivery app and have delicious McDonald's items delivered right to your doorstep for a memorable and happy Diwali.