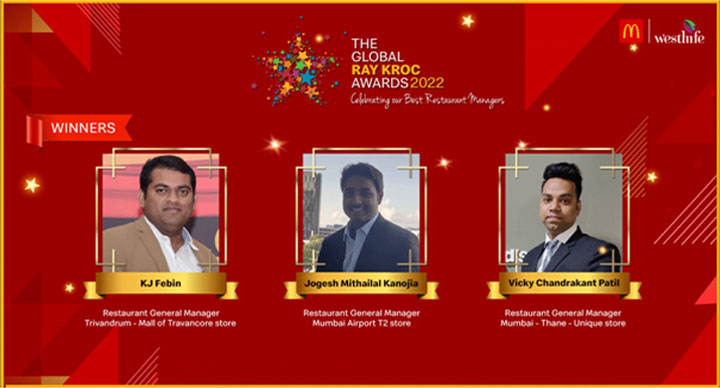 It's that time of the year, it's time for The Global Ray Kroc Awards 2022!The awards that celebrate exceptional Restaurant Managers from across the globe, who have made an impact on the community, their teams and the customers they have catered to. An appreciation in honour of all the efforts put in towards navigating the business successfully.
We are celebrating those Restaurant Managers who have proven their leadership, operational, strategic and innovation skills at McDonald's in the last two years. The recent years have presented unprecedented challenges that resulted in bringing to the forefront Restaurant Managers with the acumen to provide customer service like never before.
The award, established in 1999, recognizes zealous Restaurant Managers that stand as true gamechangers: from spearheading top performing teams, investing time to hone skills, grooming tomorrow's managers to introducing new formats of experiences. The winners are commemorated at the Ray Kroc Awards celebration at the McDonald's Worldwide Convention 2022 in Orlando, Florida.
Named after the enterprising, McDonald's Corporation Founder, Ray Kroc, who catalysed the McDonald's operations, this award is given to Restaurant Managers from across the globe who carry on Ray Kroc's belief – "I like to get people fired up, fill them with zeal for McDonald's, and watch the results in their work."
The awards recognize and celebratethe best Restaurant Managers selected from across 39,000 restaurants globally. Only the crème-de-la-crème managers, mere 1% of the lot receive this award. And we are delighted to announce the McDonald's India winners.
This season of excellence has Restaurant Managers from McDonald's India (West & South) – JogeshMithailalKanojia (Mumbai Airport T2 store), Vicky Chandrakant Patil (Mumbai-Thane, Unique store) and KJ Febin (Trivandrum, Mall of Travancore store). We believe our strength lies in the people that deliver delicious, feel-good moments to our customers everyday. And to celebrate these individuals, we keep no stone unturned. Their contribution has ensured a new milestone has been achieved and it is reason big enough for all the fanfare. Thank you, dear managers, for inspiring team members and paving the way for improved customer experiences.