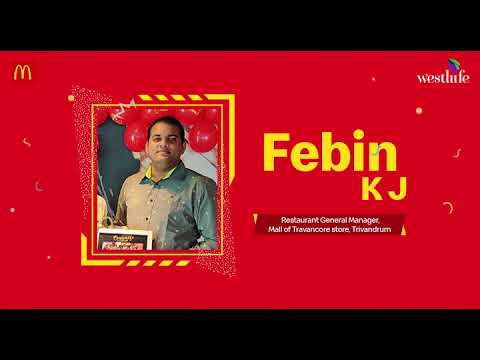 Restaurant managers play a critical role in delivering outstanding customer experience, and this is duly recognised and celebrated at McDonald's with The Global Ray Kroc Awards. McDonald's independent franchisees and regional management nominate restaurant managers for the prestigious Ray Kroc Awards. Named in the honour of the McDonald's Corporation founder Ray Kroc, the awards were established in 1999, to recognise hard-working restaurant managers.
The 2022 awards celebrate 390 managers from across 60 markets for their contribution to the McDonald's system. As part of the felicitation, each winner is awarded with cash prize and a trip to Orlando, USA, to experience part of the McDonald's Worldwide Convention and to receive their trophy from McDonald's senior leaders.
One of the top 1% of managers to receive this prestigious award is Febin K J, Restaurant Manager at the Mall of Travancore store in Trivandrum. He is one of the most dedicated and hardworking team members that McDonald's is proud to call out. His sheer commitment to building and growing the McDonald's business has been extraordinary. He was actively involved in the opening of new branches in Kerala and has delivered successful results during his tenure.
He has worked hard during every step of the process. Right from opening of the stores to excellence offered in service. Febin has worked with his team as a tight-knit unit that has helped them deliver quality service.
He reflects the true spirit of inclusivity with the way he selects his team members and leads them. Congratulations on your success, Febin. All your hard work has paid off and we are extremely proud of you!