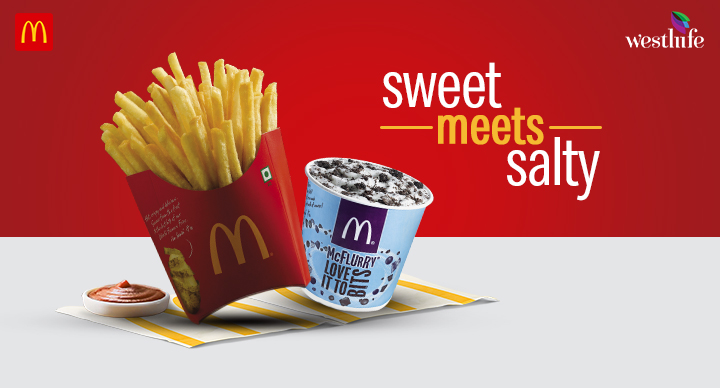 If there's one food item in the world that makes everything better, even dessert, it's French fries from McDonald's. Did we just hear a hell yes? They might be all about that savoury and salty goodness, but how about pairing it with something sweet from McDonald's dessert menu? Yep, we said that. Think about dipping your French fry into a McDonald's soft serve ice cream. It's not very different from dipping fries in chocolate shakes, a food hack that peeps swear by. Oh, and did you know that dipping French fries into McFlurrys is an actual trend? Haven't you tried it yet? You don't know what you're missin'!
McDonald's dessert menu + French fries
We could all take a leaf out of the McDonald's menu from Japan, which features the hugely popular McChoco Potato. The dish is exactly as it says – it features the famous salted fries, but they're covered in fudge and white chocolate sauce! Is it a side dish? Is it a dessert? Heck, you can even have it as mains, menu be damned.
Now that you're convinced about the lit combination of French fries with desserts, which dessert at McDonald's would you order? Just about everything on the McDonald's desserts menu tastes delish with fries!
Are you an Oreo fan? Nothing beats crumbled Oreo cookies plus soft serve on a crispy French fry. Do you love everything chocolate? Get the Soft Serve Hot Fudge and a large order of fries – and a plate. Arrange the fries on the dish and dribble this sinfully gooey delight onto it. It perfectly complements the salty crunch of the fries and might as well leave you with a foodgasm. Be ready to have your dessert pounced upon, mind you.
Nothing says sweet like strawberry. French fries with the McDonald's strawberry soft serve ice cream is the perfect sweet n' salty combo. The twirls of strawberry syrup mixed with the cool vanilla are the perfect topping for a salty fry. Try it, and the only regret you'll have is that you haven't tried it earlier.
Those foodies who love the idea of both vanilla and chocolate flavours at once should try pairing their fries with the Black Forest McFlurry. Imagine – the hot, crisp fries with fruit swirls of strawberry, cool vanilla and decadent chocolate bits – yum yum!
Thank god it's fry-yay
If potatoes made up a country, then French fries would be their king. Those who say fries only go with piri-piri or that sauce on burgers, well, don't listen to them! The next time you're getting dessert at McDonald's, remember to get some extra-large fries with that! Feeling too lazy to get off the couch? Simply head over to the McDonald's desserts menu and order yourself some amazeballs fries and dessert of your choice and try these amazing combos now. Happy nom-nom!