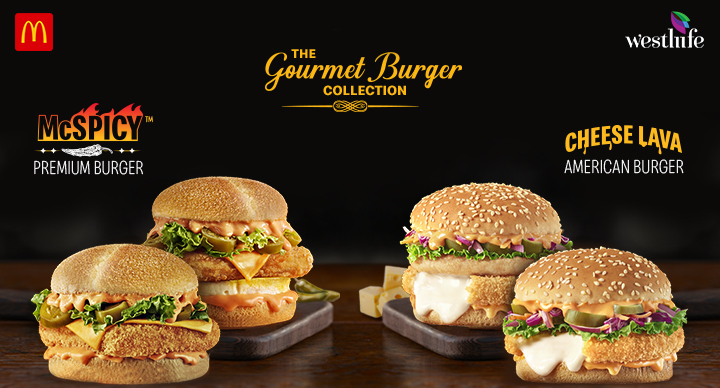 Sinful, drool-worthy, lip-smacking – there aren't enough words in the dictionary to describe McDonald's New Gourmet Burger Collection. With a delectable array of 11 burgers to choose from, the going's certainly going to get tough – when you have to choose, that is! Today, let's get our tastebuds craving for – *drumrolllll* – McSpicy Premium burger and Cheese Lava American burger. Just saying the mere names has set off our hunger pangs! So, which one takes the cake?
Digging the burgermania
When it comes to putting spins on the humble burger, McDonald's does it better than everyone else. With new variants being dished out pretty often, the decision to pick one's favourite burger can be all the more challenging. The burgers from McDonald's Gourmet Burger Collection are its latest flex, and boy, are they delicious! And if you trying to decide between the McSpicy Premium burger and Cheese Lava American burger, how about we break it down for you?
It's clear that the McSpicy Premium Burger is all about that zesty goodness taking over your tastebuds. They're a spice lover's dream, with the spicy paneer (or chicken) patty emerging as the hero. But, what's a hero without a little song n' dance? It's the extras to the rescue! The jalapenos and shredded lettuce cradle the cheese slice. Two whole wheat buns slathered in cheese and spicy cocktail sauce top off what is a decadent dish.
Sweet dreams are truly made of cheese, as is evident in the Cheese Lava American Burger, the other star of McDonald's New Gourmet Burger Collection. As the cheesy goodness oozes out of the patty, it's love at first sight. The relishing salad is propped up against jalapenos and shredded onions, with the roasted chipotle sauce making it delish as imagined. And all this slides inside freshly toasted buns: experiencing food coma already?
Burger, burger: Which burger do you choose?
Wait, you've got two favourites already? With most Indians possessing the spice gene, the McSpicy Premium could be the preferred choice. On the other hand, anything with a generous smear of cheese – and we're sold! In the end, it boils down to whether you like your burger sinfully cheesy or flaming hot n' spicy.
And we say – why choose between the two when you can eat them both? Yes! After all, all burgers are beautiful, and these two are just divine. Add a generous dose of exotic ingredients, veggies, and sauces, and you get an unbeatable combination of flavours that'll have you burger-oholics asking for more.
So, what are you still doing here? Head over to McDonald's brand-new menu and go craazyy with McDonald's New Gourmet Burger Collection!