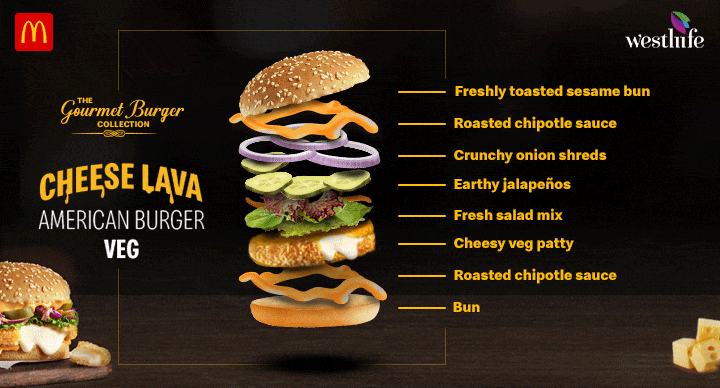 In the mood for something rich, cheesy and filling? Stop right here. Bite in to our Cheese Lava American Veg Burger and Cheese Lava American Chicken Burger from the McDonald's Gourmet Burger Collection!
An avalanche of cheese is awaiting to burst out in just one bite.
You're in for a surprise because cheese isn't the only luscious element in these tempting burgers. Let's find out about the other ingredients and flavours that make them an inviting proposition for your belly.
Freshly toasted sesame buns
Our sesame-topped buns arrive fresh and fluffy from the state-of-the-art facility in Maharashtra. We ensure their taste and texture tick the right boxes, especially for something as luxurious as our Cheese Lava American burgers.
Roasted chipotle sauce
Our very creamy, dried-then-roasted-jalapeño sauce adds the right amount of heat to these cheese-loaded burgers.
Crunchy onion shreds
Because what's a burger without some perfectly cut pieces of raw onion to go with it? And these two cheesy delights from the McDonald's Gourmet Burger Collection are no exception.
Earthy jalapeños
If our roasted chipotle sauce isn't enough hotness for you, these green pepper bits will do the trick. Our jalapeños, BTW, come from some of the finest farms in Karnataka, so you're assured of their freshness.
Fresh salad mix
Our Cheese Lava American burgers get their touch of wholesomeness from this fresh-as-a-garden salad, featuring lettuce procured from the verdant hills of the Nilgiris in southern India, the crunch of red cabbage, juicy carrots and more.
Cheesy veg patty
This one is the cheese-abundant element you'll find in both burgers. At first, you bite into their crispy exterior coating. But what you end up doing in the process is letting the volcano of cheese within to squirt forth. That's how these burgers get their tantalising names. The patty has more cheese than you can think of, so you're only in for sheer enjoyment!
Flame-grilled chicken patty (in the Cheese Lava American Chicken Burger)
Not only does this element make the double-patty Cheese Lava American Chicken Burger an indulgent delight but you also get to savour the smoky flavour of the grilled chicken this way.
Get these cheesy, hearty offerings from the McDonald's Gourmet Burger Collection NOW! Head to your nearest McDonald's restaurant for a bite (or ten). Or order from the McDelivery website or app to your heart's content.