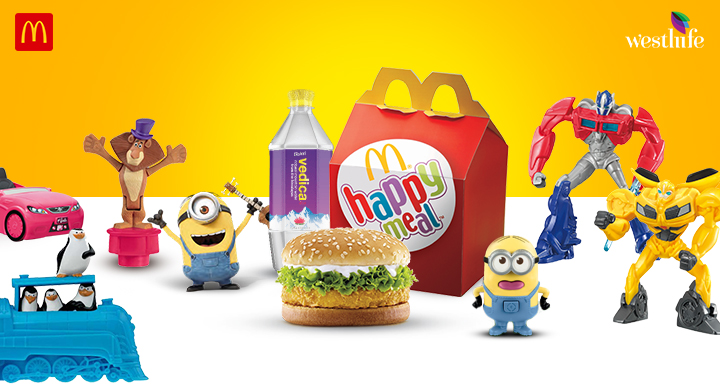 Whether they're in the form of the yellow, goofy Minions or the world-saving Spider-Man, our Happy Meal Toys bring joy to one and all.
But can these toys also make our planet smile?
Asking ourselves this question has helped us rethink everything about this McDonald's Happy Meal favourite—from the material employed in their production to their overall utility. Consequently, we've made some monumental changes to our Happy Meal Toys around the globe.
While almost all McDonald's outlets worldwide are committed to using recycled plastic in Happy Meal Toys, some have gone a step ahead. Here are three inspiring stories that are paving the way for more.
Plastic park
To eliminate 3,000+ tons of plastic from circulation, McDonald's UK and Ireland have replaced nonrenewable hard-plastic toys with soft toys, books, and paper-based goodies.
Heeding requests by outlets in these two countries, diners have collectively returned more than a million toys for recycling. Some of these recycled plastic works—including those left undistributed with McDonald's Happy Meals—have been reincarnated into parts of a colourful outdoor playground at the Ronald McDonald House Oxford. The 62-bedroom facility doubles as a home-away-from-home for families with kids at the Oxford Children's Hospital. The play area, meant for children of all ages and abilities, can be dismantled and recycled when needed.
More than 15 such playgrounds are in the pipeline for 2021, all involving recycled Happy Meal Toys. Can there be anything more joyous than this?
Book or toy
McDonald's France's discontinuation of plastic toys in favour of paper and cardboard ones is commendable. So is their 'One Book or One Toy' programme, which encourages diners to pick a book instead of a toy with their McDonald's Happy Meal. The result: a dramatic reduction in plastic usage and more takers for literature.
Moreover, McDonald's France has stopped using batteries in their toys since 2014. They've been bringing out paper games—colouring, trading cards—since 2018. In 2020, they ditched the plastic packaging around their Happy Meal Toys. The country's outlets have halved their plastic use between 2017 and 2020 and are looking to save 3,000+ metric tons of plastic annually.
Turning to servers
In 2018, McDonald's Japan collaborated with the country's environment ministry to collect plastic Happy Meal Toys from customers and convert those toys into serving trays. The campaign's initial year saw 12.7 lakh used plastic toys successfully repurposed into 1.65 lakh trays! In 2019, the number of collected toys nearly trebled to 34 lakh, marking a huge milestone for the McDonald's Happy Meal!