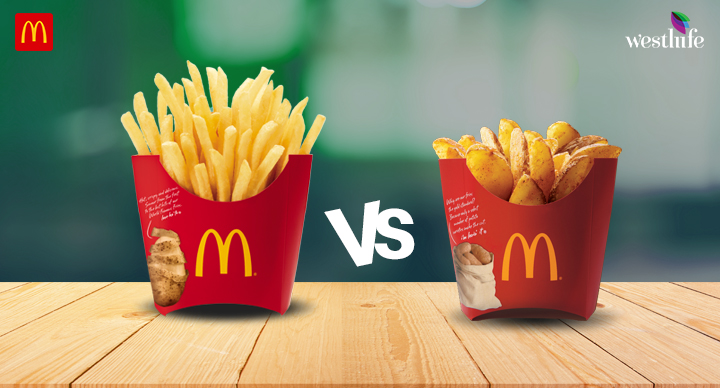 It can be a tough one, we understand. Which of these two potato powerhouses from McDonald's deserves to be a part of your mealtime?
Allow us to dissect these two heavyweights—our World Famous McDonald's French Fries and our very desi Masala Wedges—so you can decide better. We'll also announce the winner from our side so that it's munch—sorry, much easier for you to take a call. Let's see who wins this fight for your bite. Fingers crossed!
Fries
Can anything be more iconic and authentically McDonald's than our World Famous Fries? Introduced in 1949 as a replacement for potato chips, our Fries have now become a must-have in almost every meal, order, and combo. We could even say that no meal—a McDonald's one or otherwise—can be complete without these crispy golden bits, which are vital in infusing it with that distinct, hard-to-recreate crunch.
If you want a little more from your McDonald's French Fries, we have two flavourful options for you on our menu. Our Mexican Cheesy Fries come with a gush of melted cheese and cocktail tabasco sauce in delicious measure. And if you need chilli and pepper in everything, you have to add the Piri Piri Spice Mix to your order so you can mix it with your Fries and turn the lot into a batch of lively Piri Piri Fries.
Let's keep it simple. If you're a McDonald's fan, you've got to have our Fries—be it classic or flavoured!
Masala Wedges
These aren't French fries per se, but a unique and toothsome offering anyway. Think thickly cut pieces of potato fried and sprinkled with generous helpings of spice.
While our Fries and their crunch are crucial for a textural delight in your meal, our Masala Wedges also bring a desi touch to your chai-time masti. In short, they're the perfect snack for your anytime chomp! To sum it up, if you want your potato treats to be larger than the usual size, our Masala Wedges are great for your bite.
Our verdict: Order both these treats for your meal, snack time, or tea. We bet you're going to end up in a tie while deciding about this one.
Head to your nearest McDonald's outlet or order McDonald's French fries and Masala Wedges from the McDelivery website or app. Here is one experiment you ought to run!