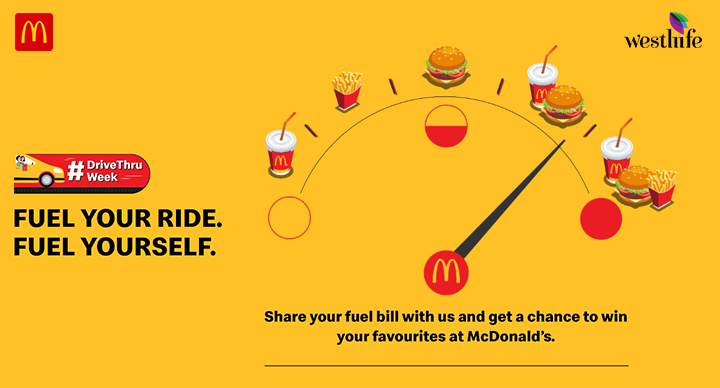 Here's your opportunity to make a winning memory out of your McDonald's Drive Thru trip.
On the occasion of National Drive-Thru Day on Saturday, 24 July 2021, we're offering you a chance to bag McDonald's freebies, based on the amount you end up spending on your fuel bill. The greater the amount, the better the freebies you can get!
Keep an eye out on our Instagram, Facebook, and Twitter pages for participation details and additional info. And then make that unforgettable drive happen. The contest runs until Friday, 30 July 2021, so plan your drives accordingly.
If you aren't aware of McDonald's Drive Thru, allow us to tell you that we're known for popularising this speedy food service across the globe, ever since we opened our first Drive Thru in 1975 in Oklahoma City, USA. We introduced drive-thrus to India in 2001, starting with the area of Kalamboli in Navi Mumbai, Maharashtra. McDonald's now has 60+ Drive Thrus in South & West India, and the impact has been such that no road trip can ever be complete without a pit stop at one of these!
Thanks to minimal contact, stringent physical distancing, and a quick service that lasts barely a few minutes, our Drive Thrus are among the safest ways for you to order and enjoy your favourite McDonald's foods without leaving the comfort and security of your car.
So, if you haven't experienced the McDonald's Drive Thru yet, we welcome you to do so now. You can end up winning some awesome freebies in the process!
Please note that the offer is valid at select McDonald's restaurants across South and West India.