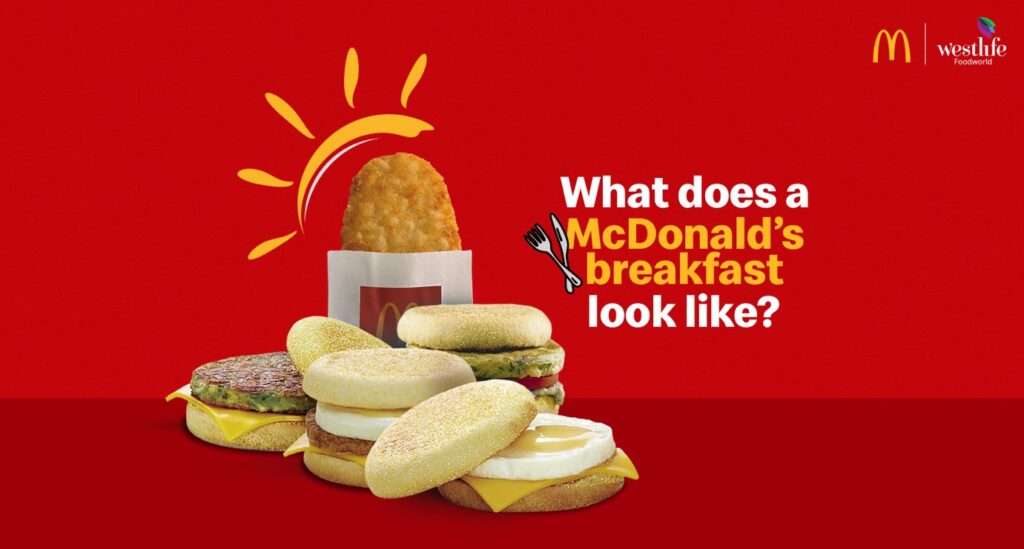 If you want a great start to your day, you have to get your breakfast right. It should be something that appeals to your heart, belly, taste buds, and nourishment needs in equal measure.
And if you are seeking something different for your first meal of the day, look no further than the McBreakfast!
The McDonald's breakfast menu is a world of options, catering to various palettes and preferences when it comes to this super important meal of the day. With some piping hot tea or coffee to complete the wholesomeness.
To make it easier for you, we recommend five of our favorites from the lot. While you can always have the breakfast at McDonald's delivered, nothing beats savoring it at your nearest restaurant on a lovely morning.
Veg McMuffin®
When you think of the healthiest McDonald's breakfast item, the Veg McMuffin® surely comes to mind. Begin your day with the goodness of spinach and corn gracing a delectable grilled veg patty placed inside a well-toasted English muffin. The cheddar cheese slice adds sunshine to every bite?.
Spicy Egg McMuffin®
This brekkie item on the menu is a #foodstagram's dream come true. Think freshly cracked and steamed egg patty ably supported by a spicy masala seasoning, onions, and habanero sauce between toasted and buttered muffin buns. Yummy!
Sausage & Egg McMuffin®
You can never go wrong with a double-protein bonanza for your breakfast, especially one comprising a sizzling chicken sausage and a soft, freshly steamed egg patty. It is another top pick among the healthiest McDonald's breakfast options.
Double Cheese McMuffin®
If you are the kind who finds their breakfast incomplete without oodles of cheese, this vegetarian breakfast offering will meet your needs. There is lots of cheese oozing from every bite of this delight. The onion shreds and jalapenos beautifully compliment the cheesy flavors.
Hotcakes with Chocolate Syrup
Pancake lovers will surely relish the fresh, spongy Hot Cakes, served with a tempting chocolate syrup that only makes things more irresistible. Are you still stumped over what to pick? Try them ALL now! Enjoy these exceptional items from the McDonald's breakfast menu by visiting your nearest McDonald's restaurant or ordering in from the McDelivery® app or the McDelivery® website. For offers and deals for breakfast at McDonald's, download the McDonald's app.