When the rain pours down, you'd want a plate of hot somethings to pair the moment with.
That's why we're recommending these delicious McDonald's food-and-drink options for you.
Ordering these delights of the McDonald's India menu is the easiest way to enjoy this charming season. And now, you can also savour the weather from your nearest restaurant, as our outlets are reopening in several parts of South & West India, following all safety measures. Or you can opt for our Take Away or On The Go service and enjoy these recos with a lovely (and safe) monsoon drive.
American Cheese Supreme Veg Burger + McCafé Americano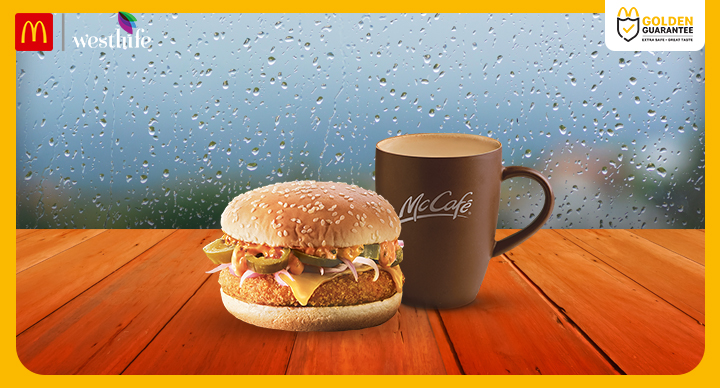 Here's an American-style way to relish a rainy day. Bite into the cheesy overload of our American Cheese Supreme Veg Burger, where a sizzling corn-and-cheese patty coexists with a slice of cheese, creamy cocktail sauce, jalapeños, and onion shreds—all inside toasted sesame buns. Sip our McCafé Americano coffee in between; its bold flavour will complement the cheesy burger strongly.
Fries + Cappuccino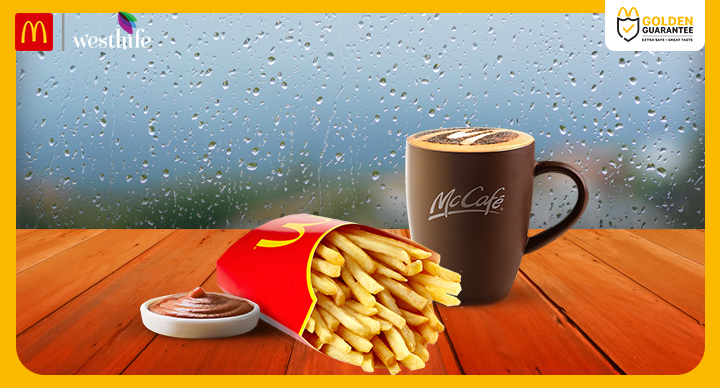 Because savoury, crispy snack + sweet, frothy drink = win-win monsoon pairing! Our Fries are anyway iconic for monsoon binges. Coupled with a heartwarming Cappuccino from McCafé, they spell paradise for your taste buds.
Chicken Chatpata Kebab Naan + Moroccan Mint Green Tea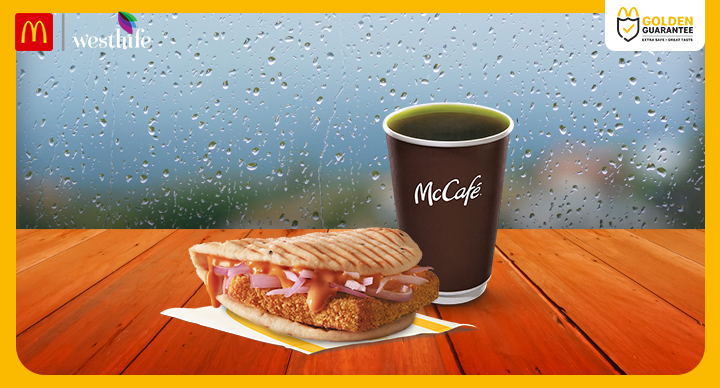 Satiate your monsoon cravings royally. While kebabs are great to nibble into in any weather, they're especially surreal during the rains. Take it a step ahead with the Chicken Chatpata Kebab Naan from the McDonald's India menu, where a crunchy chicken kebab patty sits inside a brilliantly grilled butter naan. Our habanero sauce and onion shreds enhance the sizzling flavours. And the refreshing notes of McCafé's Moroccan Mint Green Tea will further relax your senses.
McSpicy Fried Chicken + Hot Chocolate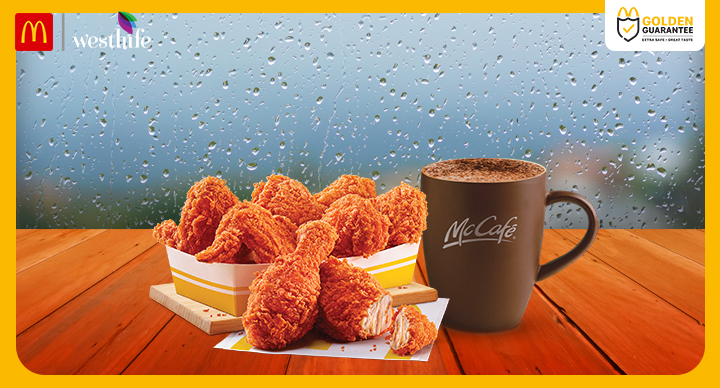 What's better than a hot-and-spicy McDonald's food favourite for your monsoon eats? Featuring some of India's hottest ghost peppers in its marinade, and with a coating batter that's just as fiery, the McSpicy Fried Chicken is the best bet for your spicy-food cravings. Especially if you're based in the South Region, which is where it's exclusively available. Follow it up with our Hot Chocolate, and the chilli–chocolate contrast will reward your taste buds.
Chicken McNuggets + Mocha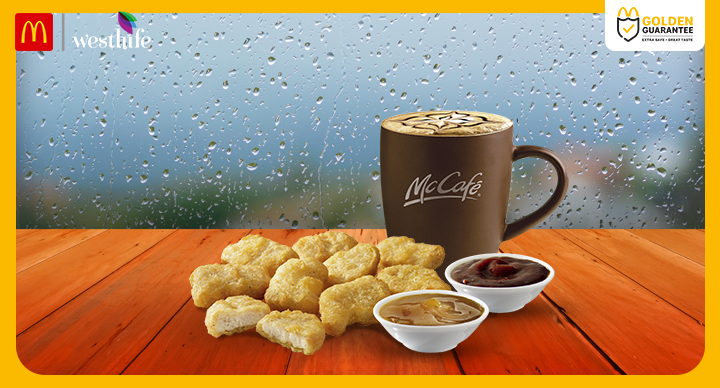 With tender chicken pieces housed inside a tempura coating, our Chicken McNuggets are just the McDonald's food you can munch on while watching a spectacular rainfall. Team them up with our Mocha, whose dark froth makes it even more alluring.
Let good food keep raining for you with the McDonald's India menu! Head to your nearest McDonald's restaurant, or order from the McDelivery website or app now!