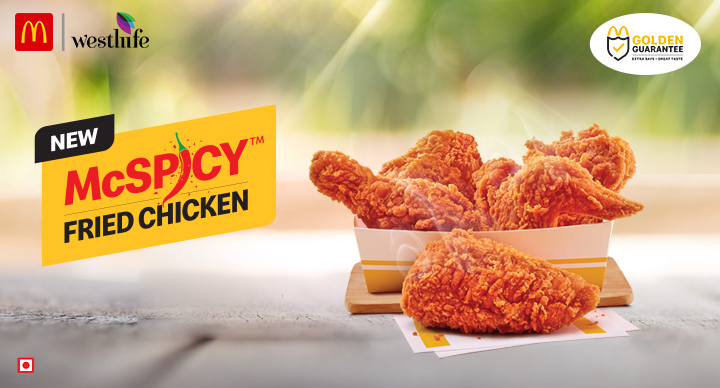 It was launched only last year but has already set everyone's hearts on fire.
The McSpicy Fried Chicken is just what you should order to eat chicken like a boss.
But how well do you know this hot seller from the McDonald's India menuwhich is available exclusively at our South India outlets? Here's a quick fact list that will only add more flavour to your McSpicy Fried Chicken experience. Because the more you learn, the better it gets.
It includes natural herbs and spices
Do you know why your McSpicy Fried Chicken remains flavourful right until the last bite? It's because of the use of natural herbs and spices as ingredients, both in the marinade and the coating batter. No preservatives, artificial colours, or added flavours—we promise.
It's marinated with some of the spiciest ghost peppers
If there's a reason the McSpicy Fried Chicken is "spicy to the last bite", it's thanks to naturally grown ghost peppers, which are counted among the hottest chillies on Earth. The chicken is marinated with a mixture containing this fiery pepper before it's fried to crispy perfection. Zero artificial flavouring. No wonder you want to keep feasting!
It's found a superstar fan in Rashmika Mandanna
The Geetha Govindam, Kirik Party, and Dear Comrade actor is now the face of McDonald's for the McSpicy Fried Chicken, which is exclusively available at our South India outlets. If you go by her two TV commercials, she "just can't get enough" of this McDonald's India super-hit.
The chicken undergoes 64 unique quality tests
Only the freshest local ingredients make it to your McDonald's meal. And we oversee that the chicken is tested for quality at every step. (By 'every', we mean 'every'.) To ensure your McSpicy Fried Chicken meal is clean, nutritious, and delicious, we source our chicken using a controlled supply chain, which is HACCP-, GMP-, and biosecurity certified. No growth promoters used anywhere. In short, we use only the best chicken.
It's crunchy to the last bite
If you find the McSpicy Fried Chicken's crispy coating delighting your taste buds in every bite, that's because we see to it that the batter leaves no part of the chicken uncoated. The meticulous frying then ups the crunch quotient even more. Keep chomping!
It's rich in protein
Of course! Now you know why this rising star from the McDonald's India menu is the perfect combination of taste and nutrition?
Up your food adventure in the comfort of your home with the McSpicy Fried Chicken. Order from the McDelivery app right away! Do note again that the McSpicy Fried Chicken is available only at South India outlets for now.