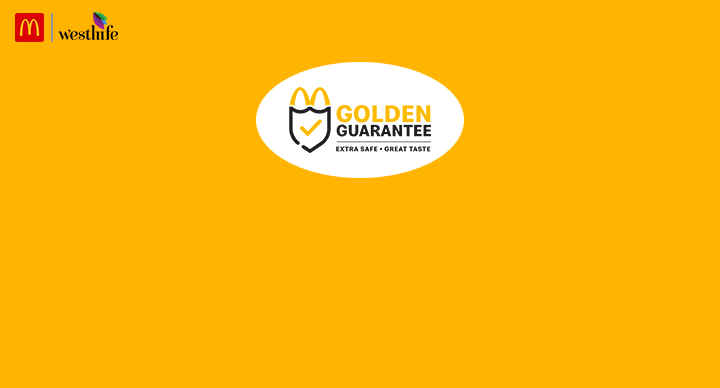 What are the emotions that you experience when you dig into your favourite food?
Satisfaction? Happiness? Adrenaline? All of these feelings of pleasure come together and induce a state of euphoria as you relish your McDonald's favourite food.
Although, in the days of Corona, the concern of safety and hygiene is the first thing that crosses one's mind. And, knowing this, we make sure worry and apprehension must never dull your excitement, and come between you and your love for food.
Food hygiene and personal safety have been a trademark of McDonald's. We've reinforced our world-class safety and hygiene practices by going the extra mile and leaving no stone unturned to give you the safest possible experience. At all times, you can be assured, your expectations will be met.

McDonald's highest food safety standards

Every McDonald's outlet ensures an absolute contactless dining experience. You can conveniently order your favourite food at the outlet in a contactless way, with the help of our self-ordering kiosks, adhering to social distancing rules, or order it online and opt for total contactless delivery. You can opt for our On-the-go service as well.
Once your order is placed, food is freshly prepared without any direct contact with bare hands. These are exceptional times, and we believe that ensuring our customers' safety starts with the safety of our employees.
The entire team follows the highest food safety measures and wears protective gear while handling your food in the kitchen. To maintain the social distancing in our dine-in area, we have adopted for an alternate table sitting arrangement, so that you can enjoy your meal at a distance and safely. Even our delivery partners who are assigned to your orders, pick your delivery by following social distancing marks and undergo temperature checks as well.
The Golden Guarantee of Contactless Delivery

The efforts of every team member go into making sure stringent safety measures are followed by all.
Every food item is packed in a contactless way and sealed with the promise of Golden Guarantee. Food packets are sealed & taped to avoid any kind of contamination. The delivery partners' bags are sanitized before they place your order in their bags for delivery.
As they reach your door-step, you receive a notification on your McDelivery app. You are given a choice to opt for direct pick from the rider or leave it at your doorstep. They will always sanitize their hands and the food pack before leaving your order with you.
Every little effort taken makes a huge difference when it comes to delivering meals safely.

Now that you know you have absolutely nothing to worry about, go ahead, take your pick from our convenience channels of delivery, take-out, dine-in, drive-thru or On-the-go. Nothing but a comfortable, joyous and satisfying experience awaits you.