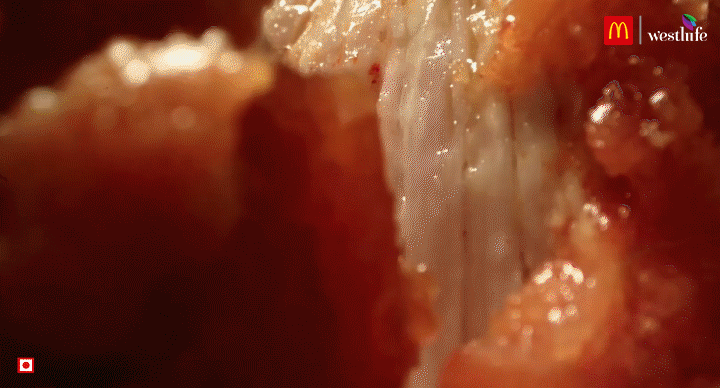 Do you wonder why 'you just can't get enough' of the McSpicy Fried Chicken andr how the McSpicy Fried Chicken is a beautiful blend of 'crunchy, juicy & spicy flavours'?
(Fun fact: Our superstar fan Rashmika Mandanna can't either! Click here to see her love for McSpicy fried chicken)
Let's put your curiosity to rest by letting you in on one of our many secrets. You know that the McSpicy Fried Chicken is juicy and crunchy from the first bite to the last. If you're wondering how and why…it's pretty simple! The natural herbs & spices that we use – minus preservatives, are marinated so well, that they percolate down till the bones of the chicken!
Isn't that just plain cool? Digging in, into the McSpicy Fried Chicken, is flavoursome with natural spice, right up to the last bite!
Also, wait a minute, just like every McDonald's food item, the McSpicy is not just about overflowing flavour and perfect texture…the chicken that is used for your meals undergoes 64 unique quality tests to ensure that it is clean, healthy, and tasty. The chicken is sourced from integrated poultry suppliers and a controlled supply chain which is HACCP, GMP and biosecurity certified.
Here's how we make sure your McSpicy Fried chicken is crunchy and juicy from the first bite to the last!
• Fresh chicken is marinated with natural herbs & authentic spices, for a decent time.
• The coating-batter is made with a balanced mix of authentic spices and flour
• Next comes the coating of the chicken, end-to-end, covering every inch of the meat
• Once marinated for a stipulated amount of time, the chicken is fried to perfection.
• The McSpicy Fried Chicken is fried until golden brown. The perfect crunch coat.
You can be assured, that every McSpicy Chicken you lay your hands on…will be the perfect balance of spice, with a juicy filling & a crunchy coat.
Give our McSpicy Fried Chicken a try at any McDonald's outlet in South India. And if dine-in is not a choice, you can always have the McSpicy FriedChicken delivered at your door-step. Order conveniently using the McDelivery app, now!