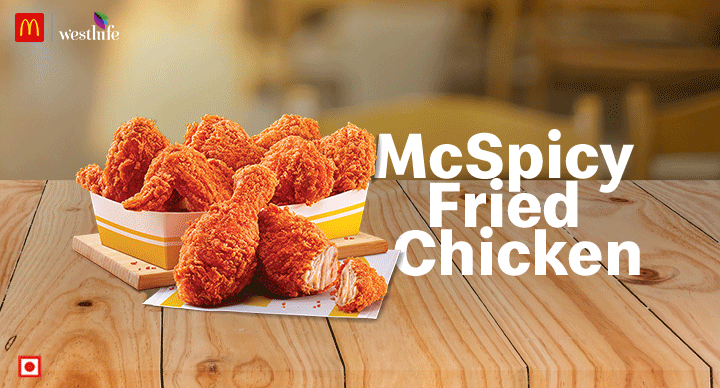 If you ever ask us who's got the best kind of chicken…we'd say…us!
From appetizing bites to wholesome meals, we've got a diverse range of chicken servings to satiate your cravings.
And so, to make sure every food experience you have with us is an unforgettable one, we've picked the most authentic flavours and reinvented them with a twist.
Having taken it upon ourselves to give you a safe, hygienic and tasty food experience, our chicken is sourced from integrated poultry suppliers with biosecurity certification. Furthermore, the chicken undergoes 64 unique quality tests.
Let's make your next choice of McDonald's chicken dishes simpler with these 4 most loved chicken favourites.
1.) McSpicy Fried Chicken
For your chicken yearnings, we've put together the best ingredients and versatile flavours of spices. For those who gorge on spicy food, McSpicy fried chicken is the best choice. Loaded with protein and blended with choicest spices, it is free from any kind of artificial essence and preservatives and flavourful till the last bite. Available exclusively in our South stores.
2.) McSpicy Chicken Burger
Talk about authenticity? McSpicy Chicken Burger is undoubtedly a great choice. The perfect combination of juicy, crispy chicken patties and the ultimate spin of hot & spicy sauce, accompanied by fresh soft buns and cooked to perfection.
What more one can ask for?
3.) McNuggets
Here's something to look forward to – luscious, crunchy & fresh McNuggets. It's something you can't miss at McDonald's and is a cult favourite.
Fresh boneless chicken teamed up with seasoning & coated with batter, and fried golden.
4.) Chicken Strips
Fried to golden perfection the McDonald's Chicken Strips are a succulent delicacy that's prominent in our South Market. Excellent quality chicken breasts are crafted into strips, rolled in crispy and delicious batter. With a sauce of your choice from our menu, you'll love to dip into this juicy heaven.
What's more? The next time you feel like taking a trip to McDonald's for your favourite kind of chicken meal, you don't have to worry about hygiene or health safety, we've taken cautious steps with the use of digital menus & payment services. Nonetheless, the hygiene standards are ace at every McDonald's outlet.
Here's to your unapologetic love for chicken.