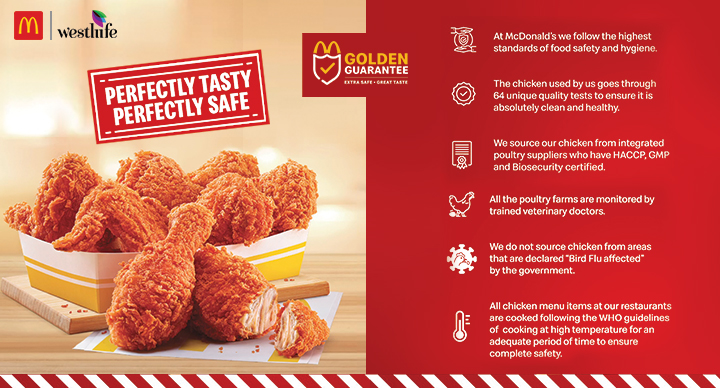 We, at McDonald's, understand your concerns about whether the chicken used is safe to consume or not, more so after the Bird Flu situation. That's why it's important to allay the fears from the minds of the chicken lovers.
We follow the highest food safety and hygiene. The chicken that is used for your meals undergoes 64 unique quality tests to ensure that it is clean, healthy, and tasty. The chicken is sourced from integrated poultry suppliers and a controlled supply chain which is HACCP, GMP and biosecurity certified. All of these poultry farms are monitored by trained veterinary doctors for any potential diseases including Bird Flu. Moreover, we do not source chicken from Bird Flu impacted areas as declared by the Government.
When we cook your meals, all the chicken items are cooked with strict adherence to WHO mandated guidelines. These guidelines include cooking the chicken at a high temperature of 180 °C and above for adequate time, as this ensures safety and eliminates the risk of probable infections including Bird Flu. This makes your McDonald's favourite foods absolutely safe to consume.
We ensure that all of these steps are followed diligently and consistently, without fail. Along with this, to ensure food safety concerns which may worry you due to the pandemic, we have enforced a 42-point checklist which includes thermal screening of employees, frequent sanitizations, contactless delivery, and social distancing.
So, walk into your nearest McDonald's outlet, pick up your favourite meal or order for delivery, all without a worry or a doubt!