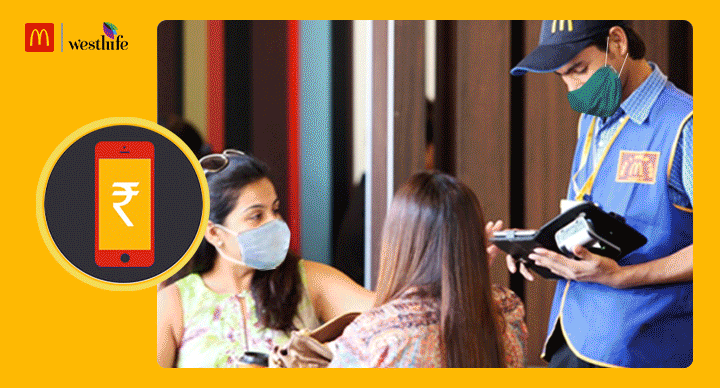 If you are in the mood to indulge in a feast and are looking for a place that serves delicious comfort food, McDonald's is the place to be. Whether you want to have a lazy breakfast, a long lunch, or a late-night treat, we are here to make your dining experience safe and enjoyable at the same time.
McDonald's has implemented social distancing and safety measures to ensure that you can enjoy your tasty treats safely.
Hand sanitizers at every touchpoint
Forgot to carry your hand sanitizer? Don't worry, at McDonald's, right from the entrance, hand sanitizers are present at every touchpoint. You can use these after every interaction to ensure your safety. There is easy access to sanitizers throughout the restaurant.
Follow the social distancing markings
Social distancing is the need of the hour. To help you maintain a proper distance from other customers, there are social distancing markings near ordering counters, self-ordering kiosks, take out counters, etc. By following these signs, you can easily stay 6 feet apart from others and maintain a safe distance at all times.
Contactless Payment
Opt for contactless payment to minimize the interaction during the billing process. Wondering how that will work? You can ask for contactless payment after you place your order. A QR code will be shared with you, just scan the QR code with your mobile phone and pay online!
Alternate table sittings
After you've placed your order, while you look for a table, follow the alternate table and chair seating arrangement that we've implemented at McDonald's. Curious about this new seating plan? It is designed to ensure that you maintain an appropriate distance from others at the restaurant. This helps us make your meal at McDonald's safer.
By adopting these social distancing methods and safety measures, you can indulge in your McDonald's favourites safely at our restaurants. To make sure you never have to do without a McDonald's meal, we have also started various services such as contactless delivery, take-out, and on-the-go service. You can use any of these services to order a hygienic meal at any time.