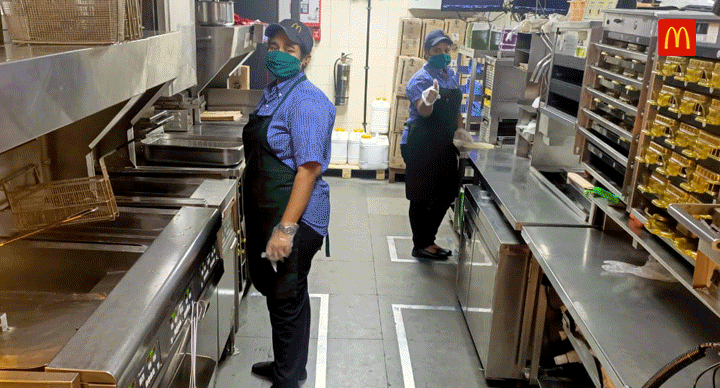 When you are bingeing on the latest series, hunger pangs strike and you are craving your McDonald's favourites, what do you do? Just open the McDelivery app on your cell phone! Now order from McDonald's whenever and wherever you want.
We are serving happiness from our kitchens to your dining table. Are you wondering how we are making your food experience delightful and extremely safe?
To deliver your meals safely, we follow these food security measures.
1. Safeguard of Golden Guarantee
At McDonald's, our food is prepared and served with unparalleled hygiene. We follow the highest standards of food safety at every single point. We start our day with a mandatory thermal screening of staff and then we practice social distancing keeping ourselves six feet apart, even in the kitchens. We prepare your favourites wearing protective gears like gloves, masks and hairnet. We are stepping up our processes and giving you our Golden Guarantee of delivering your favorites in an extra safe manner.
2. Fresh food always
The crunch of lettuce, the softness of buns, and the smooth texture of flavoured sauce is the result of our commitment to provide you fresh food always. McDonald's has an efficient supply chain and food safety protocols which contribute to the freshness of your meal. Our suppliers have also heightened their safety and hygiene measures to ensure food safety.
3. Touch me not
When you order from McDonald's, the food is prepared only after we receive your order. While we prepare your food, it's not touched by bare hands at any point. So, you are the first and last one who touches the food. You receive a fresh, warm meal, sealed with the promise of the Golden Guarantee.
4. Contactless Delivery
After your food is packed, it is delivered to you in truly contactless manner. All delivery bags are sealed with tape for both McDelivery service and third-party orders. Our delivery partners practice social distancing while waiting and their bags are sanitized after each order. They will deliver your food to your home in a contactless manner.
5. Prefer to take a drive instead?
Order your meal and pick it up without a long wait. All you have to do is place an order from the McDelivery app and choose the on-the-go option. Using this option, you can have your order delivered right to your car. You never have to leave the comfort and safety of your vehicle.
So, what are you waiting for? Order your food from the McDelivery app with a single tap and enjoy some delicious food!