As we recover from the lockdown and embraces the new normal, we have reopened our doors to welcome you with a reinvented contactless dining experience. We've instated the highest degree of safety with a 42-point checklist that covers all of our operations to ensure that you get a hygienic meal every time you visit our restaurants.
Wondering what does contactless dining mean? Simply put, we've added additional safety processes including thermal screening for all employees and customers. There are social distancing set-ups at every step of the way for your safety.
Next time you visit a McDonald's outlet, you will see various social distancing markings in front of the self-ordering kiosks, front counter and washrooms, along with alternate table and chair seating arrangements in the dining area. There will be access to sanitizers at all touch points.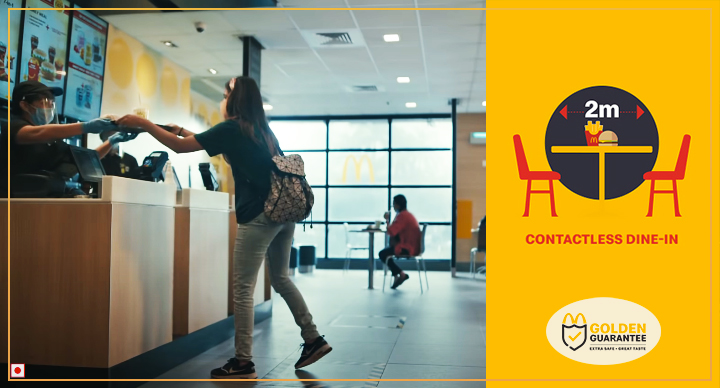 Our employees will welcome you wearing protective gear including masks and gloves. Moreover, all of our staff will mandatorily have the Aarogya Setu app on their phones.
Every time you place an order, the food will be prepared freshly and will be served in a contactless manner without being touched by bare hands. Our 42-point checklist covers hygiene and safety checks right from crew members to the dining area to the delivery of your orders. Keeping a keen focus on guaranteeing you a safe, contactless dining and delivery experience.
McDonald's also makes sure that all those who diligently work with us, our staff and employees, are also safe during this pandemic. Each member of our crew working across 315 outlets have been trained on hygiene best-practices which empower them to keep everyone safe. All McDonald's restaurants in West and South India have started dine-in, take-out and delivery services in compliance with the local Government regulations.