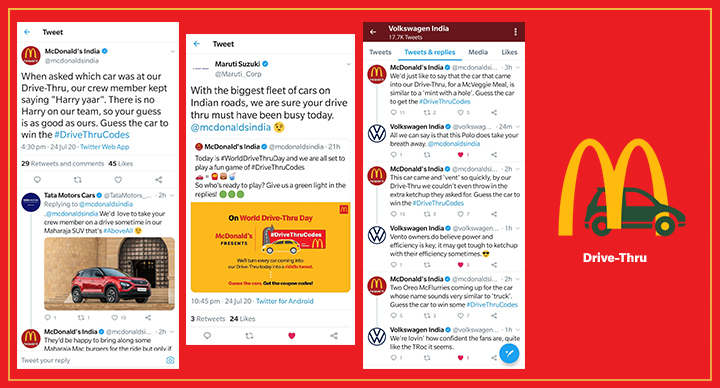 Stopping by at a McDonald's drive-thru during a road trip is an unspoken ritual for many. This convenient solution to early morning hunger pangs is an integral part of road trips and even on those early mornings when you have to rush to work. The popularity of drive-thrus is well deserved. As the pandemic took over the world, Drive-Thrus gained even more popularity. The option of picking up a safe, hygienic meal from the comfort and safety of your own car, provides the much desired convenience during this difficult time.
To celebrate the National Drive Thru Day this year, we hosted a Car Riddle Quiz to strike a conversation on Twitter. Appealing to auto buffs on the Twitter, we posed a series of interesting riddles and asked the Twitterati to guess the automobile brand mentioned in the riddles.
Dashing Results
This exciting quiz on National Drive Thru Day invited positive attention not only from Twitter users but also from automobile brands such as Maruti Suzuki, Volkswagen, Mercedes Benz and Tata Motors. This interesting activity garnered an audience of close to 1.5 million users.
Making Drive-Thrus Widely Available
Understanding the need for safe and convenient options to purchase your favourite McDonald's meals, during the pandemic, we strengthened our drive-thrus and delivery infrastructure further. Along with drive-thrus, using the McDelivery app, you can now opt for on-the-go service and contactless take out at select restaurants. On-The-Go service enables you to pre-order food and collect it from the comfort and safety of your vehicle,
from a pre-designated spot.
McDonald's India (West and South) has over 60 drive-thrus across markets. After adding the on-the-go service, we have now virtually converted all our restaurants into drive-thru stores. All of this ensures that you can continue to enjoy your McDonald's favourites easily. So next time you head out for an early morning meeting, stop by our drive-thru for your cup of joe without worrying about hygiene or safety.